About the Grant Park
Music Festival
For nearly 90 years, the Grant Park Music Festival has been Chicago's summer musical sensation, demonstrating that classical music, performed by a world-class orchestra and chorus, can have a transformative impact on the city.
As a creative response to the Great Depression of the 1930s, Mayor Anton Cermak joined forces with James C. Petrillo, the president of the musicians' union, to begin what would become a beloved summertime tradition in Chicago. By 1935, symphonic concerts had become a staple of cultural life in Grant Park, and in 1944 the Chicago Park District formed the Grant Park Orchestra under the direction of Principal Conductor Nikolai Malko. Over the ensuing decades, principal conductors of the Grant Park Orchestra included such illustrious figures as Irwin Hoffman, Leonard Slatkin, David Zinman, Zdenek Macal, and Hugh Wolff, culminating with the appointment of Carlos Kalmar in 2000.
In 1962, the Grant Park Chorus was established under the direction of Thomas Peck. It was subsequently led by Michael Cullen (1994–97) and a series of guest conductors until the appointment of current Chorus Director Christopher Bell in 2002.
The Jay Pritzker Pavilion in Millennium Park
The Festival has had several homes during its history. A temporary fan-shaped bandshell was constructed on the south portion of Grant Park, near the Field Museum for the first four decades of the concert series. In 1978, the Festival moved to the Petrillo Bandshell, named after the Festival's founder. And in 2004, Millennium Park opened and the Grant Park Music Festival moved in to the state-of-the-art Jay Pritzker Pavilion designed by renowned architect Frank Gehry.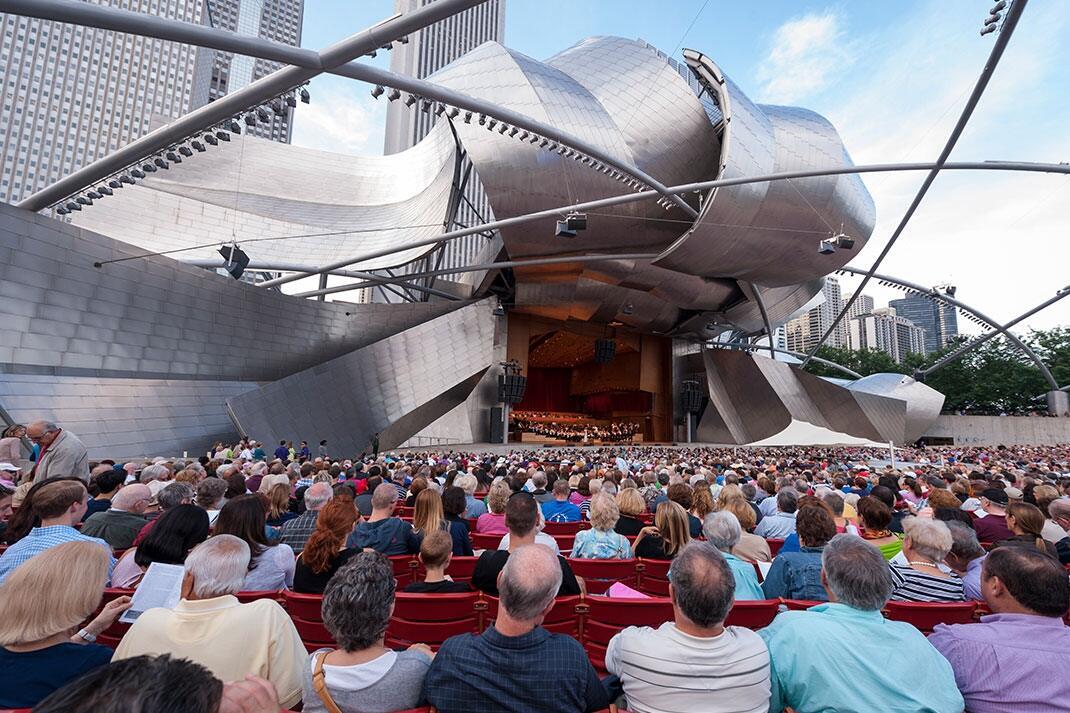 Led by Artistic Director and Principal Conductor Carlos Kalmar and Chorus Director Christopher Bell, each summer the Festival offers a 10-week season of concerts, artistic development initiatives, radio broadcasts and community engagement and outreach programs.
Today, it operates as a unique collaboration among the Grant Park Orchestral Association, the Chicago Park District and the Department of Cultural Affairs and Special Events.