News & Stories
News
Festival HD: Bringing Music to the Screen
|

Jill Hurwitz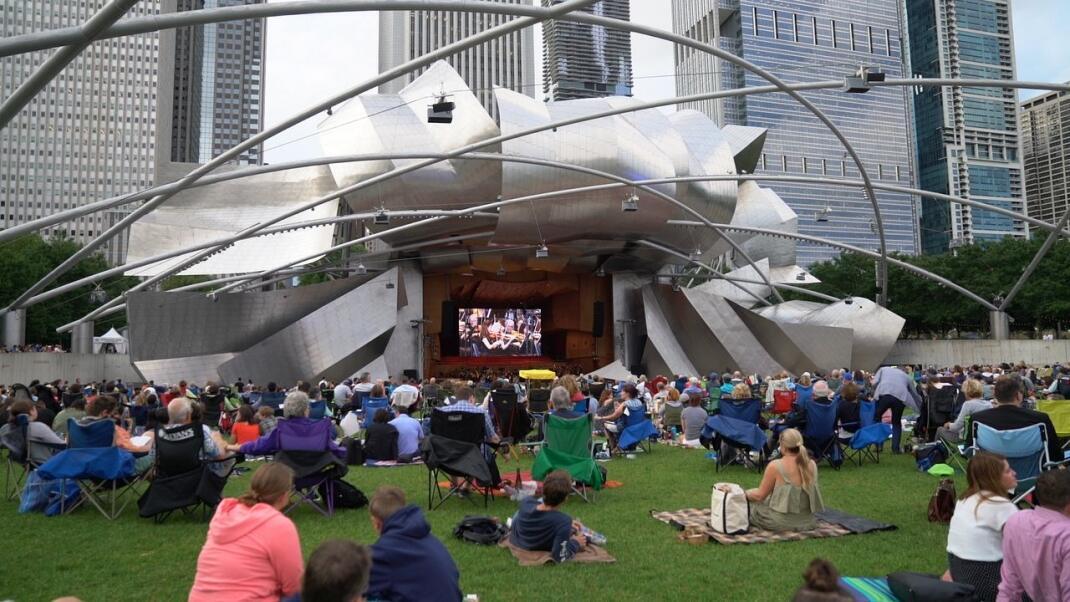 In 2019 when the Festival was looking for a way to celebrate the fifteenth anniversary of the opening of Millennium Park, they launched Festival HD, a multimedia concert series utilizing the Millennium Park screen. For four nights that summer, audiences would see a combination of live orchestra with spectacular visuals on screen.

The Millennium Park screen was different. Its size—40 by 22 feet—dwarfs all the rest, and utilizes LED technology, meaning it's bright enough to be viewed in daylight from all 4,000 seats in the Pavilion as well as from the Great Lawn. The productions offered the added benefit of giving patrons on the lawn a more intimate concert experience.
The screen makes me feel more connected to the music. Now I can actually see the stage; I can see Carlos conducting and I can see members of the orchestra."

—Lisa Tesarik, a Grant Park Music Festival member who sits on the Great Lawn for concerts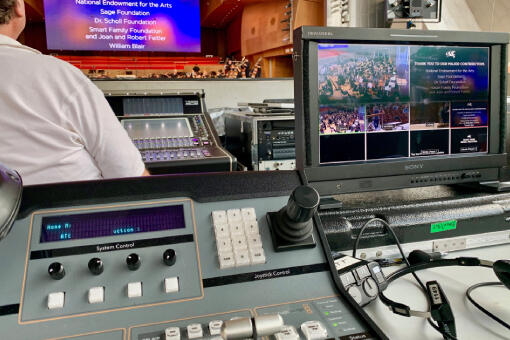 To make Festival HD happen, a seven-person production team works together to capture the music making on the stage, and brings it to life on the screen. And it is a well oiled machine, one designed to work in a high-pressure situation.

With three cameras—one facing the stage, one in the Choral Balcony and one anchored on the side of the stage—Matt Hoffman, co-founder and President of HMS Media, and the Video Director of the Festival HD programs, has only one rehearsal to produce this live show. During the concert, he relies on an Assistant Director who follows the musical score and lets him know which instruments are about to be played.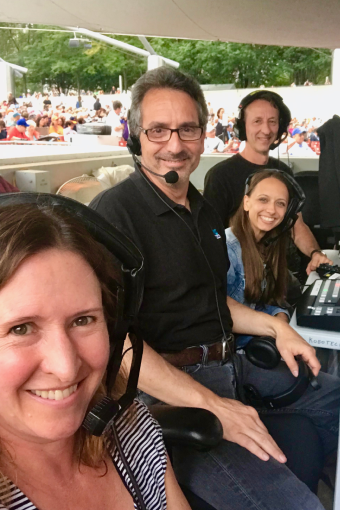 Then, like a conductor himself, he coaches his camera people into position, and with lightning-fast precision decides what the audience will see, cueing his Technical Director and Video Engineer to capture his vision. "It's like a symphony when it all works," said Hoffman, "and the audience sees the orchestra from vantage points they've never seen before."
In 2022, the Festival offered three programs in HD: the annual Independence Day Salute (July 2), Cirque Goes to Hollywood, featuring high-flying aerialists and acrobats (July 6) and Tchaikovsky's Sleeping Beauty (August 17).