News & Stories
Black History Month and Festival 2022
February 1, 2022 | Noel Morris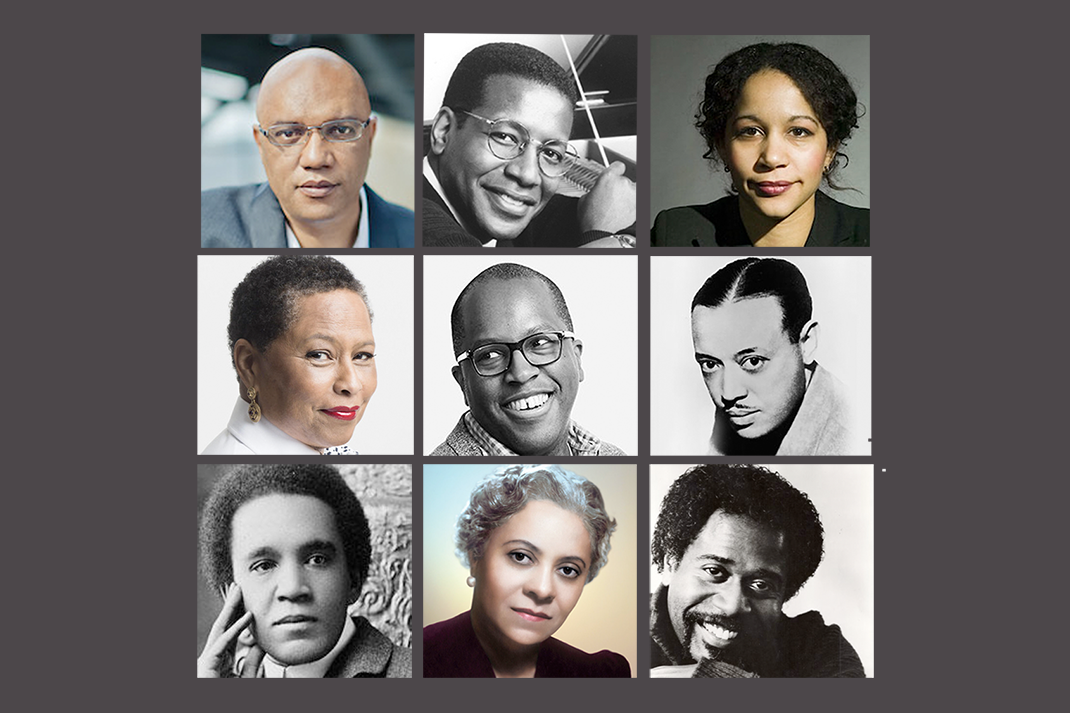 Get to know some of the history-makers behind this summer's Grant Park Music Festival
Billy Childs
Los Angeles-native Billy Childs was still a teenager when he began working as a professional pianist. He went on to win a Guggenheim Fellowship and five Grammy Awards in both the classical and jazz categories. He's made arrangements for the likes of Gladys Knight, Phil Ramone, Michael Bublé, Yo-Yo Ma and Sting.
In 2020, the Grant Park Music Festival partnered with violinist Rachel Barton Pine to commission a new violin concerto from Childs. Due to the pandemic, the performance has had to wait until the 2022 season. It takes place on the weekend of July 15. In the meantime, Childs has written a second piece for the Festival, a string quartet, which will be premiered Sunday, July 17.
Charles Floyd
Composer, pianist, arranger, and conductor Charles Floyd has led orchestras around the world and has appeared in telecasts on PBS and HBO. He's a regular with the Boston Pops and has collaborated with a wide range of artists, including Natalie Cole, Grace Bumbry, Wynona Judd, Brian Wilson, Ziggy Marley, Elton John, Stevie Wonder, Denyce Graves, Nancy Wilson, and more.
During the 2022 Festival, Floyd is the conductor and arranger for A Gospel Jubilee (July 27), a program celebrating Chicago's native art form, Gospel music. A musical style that sprang from churches on the city's south side, Gospel typically features organ, guitars, piano, bass, and drums. Charles Floyd has prepared orchestral charts for the musicians of the Grant Park Orchestra. The program includes an original composition by Floyd.
Tebogo Mannakgotla
She's considered one of the most prominent Swedish composers of her generation. Tebogo Mannakgotla is making her mark in the opera house and in the concert hall. The daughter of a one-time South African refugee who fled during the Apartheid era, she now collaborates with the Swedish dance troupe Scenkonst Sörmland on new productions at the Baxter Theatre in Cape Town.
During Festival 2022, pianist Andrea Haefliger and flutist Marina Piccinini perform a world-premiere composition by Mannakgotla on August 7, part of the CenterStage series.
Eleanor Alberga OBE
Born in Kingston, Jamaica, composer Eleanor Alberga moved to London to study at the Royal Academy of Music in 1970. Working for the London Contemporary Dance Theatre, she began making piano improvisations that became the stuff of legend. Before long, dance companies were paying her to write ballets. Today, she is the composer of acclaimed operas, symphonic and solo works. In 2021, she was awarded an OBE (Officer of the Most Excellent Order of the British Empire) for her service to British music.

Her music makes its Festival debut in 2022 during a CenterStage concert presented by the ZOFO piano duo on June 19.
Michael R. Jackson
On his website, he refers to himself as "the living Michael Jackson," but Michael R. Jackson stands in no one's shadow. Jackson is a playwright, composer, lyricist and self-proclaimed trash-talker. His "big, Black, queer-ass Broadway show" A Strange Loop won the 2020 Pulitzer Prize for drama. After rocketing to fame in an off-Broadway production, A Strange Loop opens on Broadway in April.
Music from A Strange Loop makes its Chicago debut at the Lights on Broadway concert (July 8 & 9) during the 2022 Grant Park Music Festival. A concert celebrating a range of Pulitzer Prize-winning shows, Lights on Broadway features veteran performers Capathia Jenkins and Sam Simahk.
William Grant Still
Born in 1895, William Grant Still entered the field of music during the Jim Crow era and ascended the ranks to work with Artie Shaw, Paul Whitman, Sophie Tucker, W. C. Handy and more. His career is dotted with "firsts": the first Black musician to conduct a major orchestra, the first to have a symphony performed by a major orchestra, the first to write an opera produced by a major American opera company, and the first to see his opera televised nationally. With a slew of honorary degrees from Oberlin College, the New England Conservatory, the Peabody Conservatory among others, he came to be known as the "dean of African-American classical composers."
The Grant Park Music Festival features Still's tone poem, Darker America, a portrait of oppression and the struggle for human rights, on the weekend of July 22.
Samuel Coleridge-Taylor
Describing himself as an Anglo-African composer, Samuel Coleridge-Taylor was the son of an English mother and a doctor from Sierra Leone. At fifteen, he enrolled at the Royal College of Music in London. In 1899, he heard the Fisk Jubilee Singers and fell in love with the American spiritual. Throughout his life, he championed civil rights and the Black identity by incorporating African music into his own works. He toured the United States in 1904, 1906 and 1910 and visited the White House at the invitation of President Teddy Roosevelt.
On July 13, the Festival presents Coleridge-Taylor's Ballade, a piece commissioned on recommendation from Sir Edward Elgar.
Florence Price
As a Black child born in 1880s Arkansas, Florence Price was denied access to formal music lessons. Trained by her mother, Price went on to study piano, organ, and composition at the New England Conservatory. She returned to the South to become a music teacher, but after a series of lynchings, joined the Great Migration and landed in Chicago. In 1932, her Symphony in E minor won Chicago's Wanamaker Music Contest, which led to a performance with Frederick Stock and the Chicago Symphony Orchestra. It was the first time a major American orchestra had played a symphony by a Black woman.

This season, the Grant Park Music Festival features Price's Piano Concerto in One Movement. Part of the Opening Night celebration (June 15) the concert features Price specialist Michelle Cann as soloist.
Charlie Smalls
A child prodigy, Charlie Smalls began playing the piano at age five and entered the Juilliard School at eleven. As a pianist, he toured with Harry Belafonte and Hugh Masekela. In 1975, he took Broadway by storm with his adaptation of Frank Baum's Wonderful Wizard of Oz. Featuring a Black cast, The Wiz juxtaposes humor, fantasy, and songs of protest. Serving as both composer and lyricist, Smalls won the Tony Award for Outstanding Music and Lyrics. He also won a Grammy and two Drama Desk awards. While touring in Belgium, Smalls died on the operating table during an emergency appendectomy at age 43.
This summer, Smalls' uplifting "Everybody Rejoice" rounds out the Festival's Lights on Broadway concert on the weekend of July 8.

Learn more about these and other Festival composers by visiting our Composer Wall.