News & Stories
Insights
Building Tomorrow's Orchestra
|

Noel Morris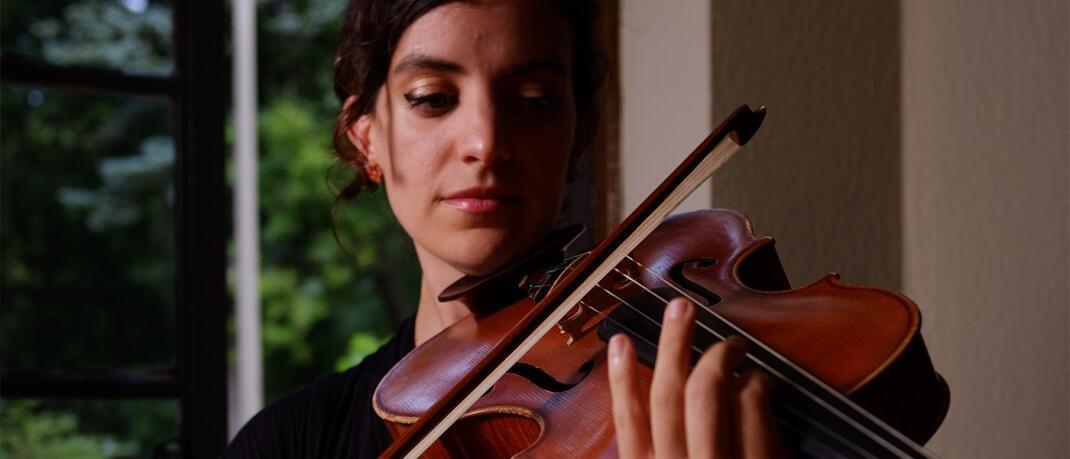 For the young musicians of the Grant Park Music Festival's Project Inclusion Fellowship, jam-packed summers lead to valuable life skills—and a deeper impact on the world.
To a pre-professional musician, it might feel like boot camp. Members of the Grant Park Music Festival's Project Inclusion String Fellowship program perform interactive chamber concerts in more than ten parks; they play for dozens of day camps, and spend six weeks as members of the section of a professional orchestra—often doing all three on the same day. Last summer, they tackled three world premieres, symphonies by Beethoven, Shostakovich, Dvořák, and more, and participated in a masterclass with Augustin Hadelich.
"The summer schedule was certainly jam-packed in the best way," said Rita Andrade, a Los Angeles-based violist and Project Inclusion alumna. "For six weeks, we had performances almost every afternoon and night of the week."
The Grant Park Music Festival's Project Inclusion program is designed to guide young players, ages 18-29, toward successful careers in music—but with one key provision: it is a program for musicians of color.
"In a world where modern ideals are quickly leaving tradition in the dust," said Andrade, "connecting to more unseen communities might be one of the most valuable ways to keep the transcendent beauty of orchestral and chamber music traditions alive." And often, those connections begin with the people onstage.
"I remember attending an orchestral music camp in middle school where we played this arrangement of Stravinsky's Firebird Suite," said violinist Caitlin Edwards, another Project Inclusion veteran. "The feeling of being invigorated, energized, heartbroken, but rising again in victory, all within the context of me performing/rehearsing this music, was something I had never experienced before. I think that's when I began to chase that musical "high" in all of my repertoire."
Relating those feelings to people in an audience is yet a different matter. As these young artists tour Chicago's parks, they're required to serve as emcee and advance the Festival's mission for community engagement—good life skills for a working musician.
"Performing with the Project Inclusion quartet in the park concerts built my confidence as a musician and as a public speaker," said Edwards.
"Speaking with our audiences was a huge one for me," said Andrade. "It is its own kind of art form. We had workshops on how to speak from the stage and further the bond between the intrinsic power of music and the listener."
Project Inclusion was the brainchild of maestro Paul Freeman, founder of Chicago Sinfonietta. In 2013, the Grant Park Music Festival forged a partnership with Sinfonietta to launch its own version of the program to bring greater diversity into the classical music field. Each year, the Grant Park Music Festival welcomes two violinists, a violist, and a cellist, as well as four vocal fellows. During the summer, Project Inclusion Fellows rehearse and perform with the Grant Park Orchestra, which often draws crowds of 10,000 people. Fellows give free concerts across Chicago, receive coaching from soloists, conductors, and section leaders, as well as instruction in off-stage skills, ranging from video production (for auditions) to stress management.
Since leaving the program, both Caitlin Edwards and Rita Andrade have pursued dynamic and community-oriented careers. Edwards was recently in Nairobi where she helped lead an orchestra in a performance of The Nutcracker. She's done film work (she played on the soundtrack of The Lion King) and has recorded with John Legend and PJ Morton. Already, she's received a Grammy Certificate. This month, she is featured in a documentary film about the 16th Street Baptist Church in Birmingham, Alabama. The film honors the four children murdered there during the Civil Rights Movement, and features musicians playing instruments recovered from Nazi concentration camps. The documentary Dreams of Hope airs nationally on PBS stations in March and April.
Rita Andrade and her string quartet ATLYS represented Lincoln Center on Holland America Line for thirteen months, touring over thirty countries. They played the Olso Freedom Forum with the Human Rights Foundation. Back home in L.A., Andrade works with Harmony Project, a non-profit that provides instruments and music classes to children in low-income neighborhoods.
To date, the Grant Park Music Festival has received applications from 37 string players for the 2020 season. Of that number, 20 have been invited to come to Chicago for an audition. Four will be chosen. The sister program, the Project Inclusion Vocal Fellowship, has received 23 applications to work with Christopher Bell and the Grant Park Chorus. Twelve have been invited to come to Chicago for a final audition.