News & Stories
News
Carlos Kalmar Previews Summer 2020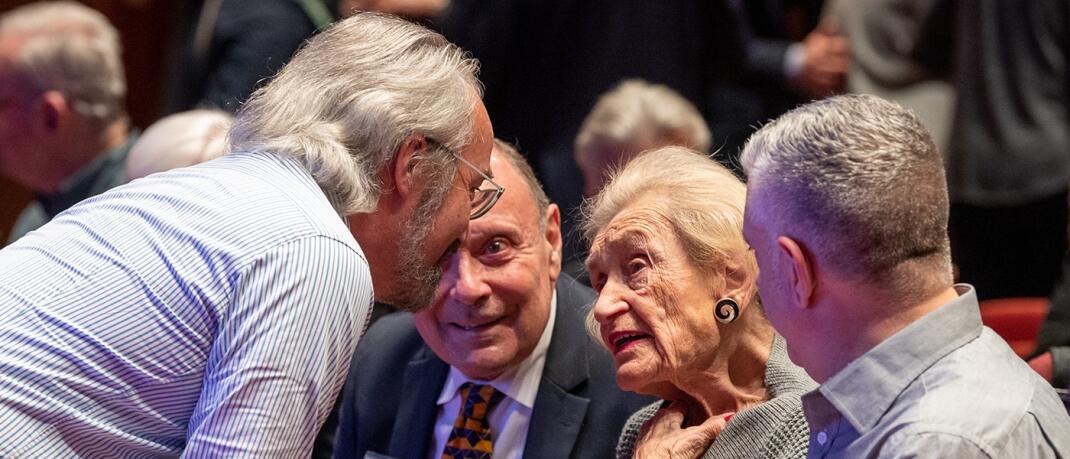 Expect the unexpected and some classic favorites, too — that's according to Carlos Kalmar, who spoke to a gathering of Festival friends onstage at the Jay Pritzker Pavilion.
On the evening of Wednesday, January 29th, Festival fans and supporters packed the stage of the Jay Pritzker Pavilion for wine, cheese, and some live music provided by rising-star pianist Janice Carissa. Bathed in the glow of Chicago's South Loop, Artistic Director and Principal Conductor Carlos Kalmar stepped to the lectern to share his enthusiasm for the 2020 season.
"One of the composers I like the most is Johannes Brahms," said the affable maestro. "We know he had a sharp tongue and quite a dislike for many of his fellow composers." But, Kalmar reasoned, "Brahms said, 'Robert Fuchs [an Austrian romantic] is an excellent composer.' And I thought: if Brahms said something is good, then we should hear it."
Throughout the evening, Kalmar skipped the core repertoire to talk about the lesser-known pearls. (The audience giggled when he suggested they "already know that Beethoven's Eroica Symphony is great.")
Around the globe, the Grant Park Music Festival is known for its ability to draw thousands of people into a state-of-the-art facility for classical favorites, as well as music they've probably never heard before. Now approaching his 21st season with the Orchestra, Kalmar has become a tireless champion of "wrongfully neglected" repertoire.
In 2020, this free concert series includes Robert Fuchs's Symphony No. 2, a piece from 1887—as well as Brahms's Symphony No. 3—plus gospel, contemporary works, and music by women and people of color. Make no mistake, there will be plenty of classical hits, including Berlioz's Symphonie fantastique, a suite from Tchaikovsky's Sleeping Beauty, and the Beethoven Fourth Piano Concerto—it's all part of a strategy to re-energize orchestral music through an ever-growing palette of repertoire.
"There's something about being part of this festival," said President and CEO Paul Winberg, "that inspires us to push a little harder, to explore new ways of producing concerts, and find ways of attracting more and more diverse audiences." In part, this means shaping the Festival's programming to better reflect the community, particularly when it comes to women and people of color.
"They deserve a place in music history," said Kalmar. "And they deserve a place on this stage."
This inclusiveness reflects an ongoing evolution in classical music which serves several artistic and strategic goals: Bringing new audiences and new works into the repertoire is essential to a living art form. Widening the repertoire keeps musicians engaged and interested over a long career, and it advances the Festival's commitment to serving the Chicago community.
Ultimately, the Festival's 2020 season reflects a longstanding musical tradition in the Midwestern capital, one which stirs a conversation between members of a culturally diverse urban landscape while championing the very best in international arts.