News & Stories
Behind the Scenes
Chorus Auditions: "Next, Please!"
|

Noel Morris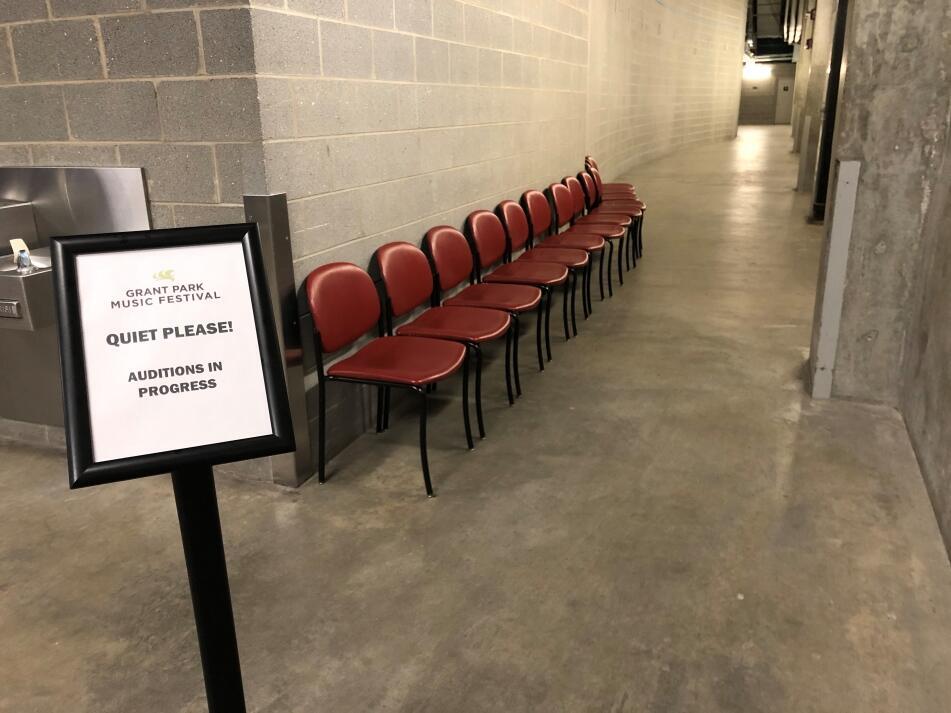 Pushing through winter weather, hectic schedules, and pre-audition jitters, singers line up for a chance to be part of the 2020 Grant Park Chorus.
On a snowy day in February, a nine-foot Steinway was trucked into the Choral Hall of the Jay Pritzker Pavilion. Next came the piano tuner. On the morning of the Grant Park Chorus auditions, chorus director Christopher Bell arrived from Washington, D.C. to discuss final preparations. Over the next two weeks, he would hear auditions by nearly 250 singers, some from out-of-state, including New York, Florida, and California.
Competition for spots in the chorus is steep—there are only five vacancies in the core group for the 2020 season. Choristers sing up to twelve concerts and 37 rehearsals per season. The singers are paid, but more than that, become part of a select group of artists in one of the top orchestra choruses in the United States.
"I just love this gig, honestly," said soprano Nathalie Colas. She's back after having sung her probationary first year as a regular chorus member in 2019. As a rule, new singers are probationary for one to two years before becoming core members. As the human voice is constantly changing, every core member must re-audition every other season, a process which can put even the most seasoned singers on edge. "Some people roll into auditions, and they're not nervous," said Colas. "Congratulations to them! For me it's always nerve-racking because I want to do well, you know? Christopher Bell is amazing, so you don't want to disappoint. And also you want to show that you take this seriously and that you prepared well."
A glance at the audition score sheet reveals something of the parameters on which a singer is judged: voice size (small, medium, large), tone (bright, clear, warm, rich, other), vibrato (small, medium, large), intonation (excellent, good, occasional, poor). Singers bring with them a couple prepared songs and sing through a portion of the Beethoven Mass, which will be performed in the coming season. They're also asked to sing an excerpt of west-coast composer Morten Lauridsen's "O Magnum Mysterium"—here, Bell is checking the singer's ability to sing "straight tone" (without vibrato). In all this, he's looking not only for musicianship and strong technique, but versatility.
"One minute they are singing full-on operatic repertoire," said Bell, "the next Broadway and then again church-style music in an a cappella situation. They need to be very flexible and offer something that contributes to all these different genres. In addition they need to be able to work quickly." And this is paramount. Whereas many, many people participate in choirs and choruses around the United States, and may be accustomed to having a director walk them through their notes, this is not an option for Grant Park choristers. Typically, these singers get between four and six rehearsals per concert during the ten-week Festival. In all, they will sing six different programs during the 2020 season.
"I feel like it's a challenge, and it's exciting to be in a rehearsal that's run by someone who's really on top of it all the time," said Colas. "Christopher Bell always has a plan, and he's very specific and very technical. You never feel like your time is wasted."
When it comes to the basic building blocks of the chorus, there remains something unquantifiable about the process. "My job is to choose the voice and encourage the blend," said Bell. "If every single member of the Grant Park Chorus came in and sang to you, you would notice that they're basically all different (as opposed to orchestral instruments—the violins and the bows, for example, are all the same size.) When thirty sopranos turn up, each one of those sopranos has a different voice. And so my job is to choose the voices that I feel that I can then encourage to blend well—and the result can be nothing short of spectacular."
Soprano Nathalie Colas successfully completed her audition and will return for her second year as a "probationary" singer in the Grant Park Chorus.