News & Stories
Composer/Double Bassist Xavier Foley and His Red-Hot Career
May 1, 2023 | Noel Morris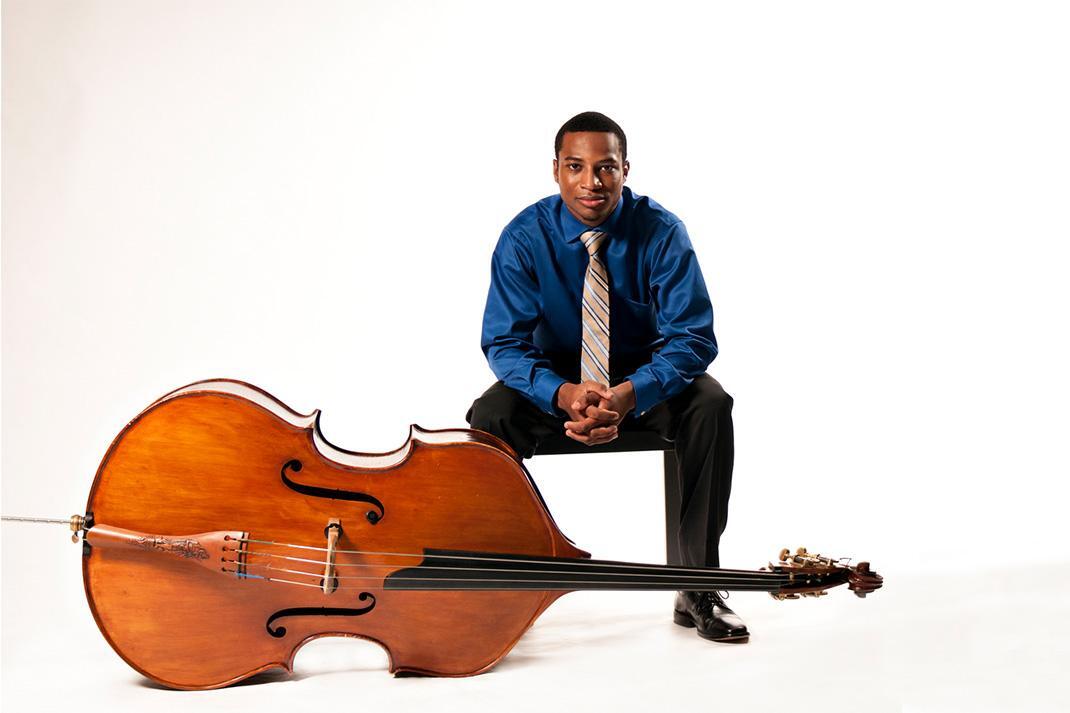 From Charlie Haden to Esperanza Spalding to Charles Mingus, great bass players form the foundation of many a legendary band—but few step out into the spotlight. Today, there's a new name among the double-bass greats, and he's fast becoming one of America's most in-demand composers. Recently, I had a chance to catch up with the 27-year-old Atlanta native ahead of his Grant Park Music Festival residency.
NM: You are populating the world with compositions for double bass, and your works are showing up on the recitals of more advanced players. Do you have any advice for them?

XF: Much of my music is quite challenging, given my interest in exploring the technical boundaries of the double bass. I always like to advise students to bring the same level of focus, attention, and preparation to this music as you would bring to any music. You need to be relentless in your preparation.

NM: Your works for solo bass are polyphonic in a way that's reminiscent of Bach's writing for unaccompanied strings. Care to comment?

XF: Simply put, Bach is one of my biggest influences, especially in my counterpoint writing.

NM: Bach gets arranged for lots of other instruments. Do you see that happening to Foley works?

XF: Definitely! In fact, it's already happening. I regularly
receive messages on social media (YouTube, Instagram, etc.) of folks playing/arranging my music. It's very exciting.

NM: You're writing a piece for you to perform with pianist Joyce Yang during the Festival's Centerstage series (July 16). What considerations do you take to balance the piano part? Do you have a title?

XF: The piece is finished and entitled Midnight Sonata. In terms of balance, there are always larger thoughts and considerations, such as making sure both the piano and double bass have robust material (so both instruments shine) and also smaller more specific considerations such as making sure the octaves between bass and piano are spaced out—so that the bass can be heard. The given instrumentation one is writing for always demands a certain set of considerations depending upon the qualities of the various instruments.

NM: Looking throughout the classical repertoire, the bass hasn't gotten as much time in the spotlight as, say, the piano or the violin. Do you feel like you're achieving things as a player/composer that might alter perceptions about the instrument?

XF: Expanding the double bass repertoire and championing the double bass as a prominent solo instrument is a fundamental part of my artistic mission. Historically, there haven't been many composers who also played the double bass as their primary instrument. Mozart, for example, played the violin and piano and he, in turn, wrote many wonderful compositions for the violin and piano. As a double bassist with a strong understanding of the technical aspects of the instrument, I'm able to compose music that shines a light on the limitless possibilities for it.

NM: You seem to bristle at the idea of genre and drawing lines between one style of music and another. In a way this should be old news, shouldn't it? Haven't composers always drawn from lots of inspirations? What is it about the music industry that you (and other artists) still have to fight this battle?

XF: Yes, composers have always drawn inspiration from all over the place. Bartók, for example, was inspired by folk music and that is heard throughout his compositions. I think composers have historically been very influenced by their travels and being exposed to different cultures, sound worlds, etc. When it comes to my own music, I often tend to draw inspiration from more modern genres (R&B, funk, soul, heavy metal, etc.), and I think this is what distinguishes me from other composers. Ultimately, I think my goal is to create musical experiences that are relatable to everyone from all walks of life, which is a challenge all composers face.
NM: I ran across a social media post from September 2010. You were maybe 15? You said: "My hands are tired, tired of practicing the same song for 5 hours." Is it still like that? How do you balance practice, composition and touring?

XF: I have no recollection of this post! A lot has changed since 2010. In terms of finding balance, I've learned how to adapt over the years, both mentally and physically, to the various situations in which I find myself. Preparation for a series of solo recitals looks different than preparation for concerto engagements. Likewise, when I'm composing, often up against a deadline, I structure my time differently. Ultimately you have to be very intentional in how you use your time. For me, composing music that I'll be playing myself sort of kills two birds with one stone, as I'm learning the repertoire as I write it. The creative process is a joy!
In addition to writing and premiering a work with pianist Joyce Yang, Xavier Foley is also writing a quartet to be premiered by the Festival's string fellows. The quartet will be featured in performances in parks across the city. Both works are Grant Park Music Festival commissions. Xavier Foley's Grant Park Music Festival residency begins June 21 when he'll appear as the featured soloist in the Divertimento Concertante by celebrated film composer Nino Rota.