News & Stories
Festival Raises $1,000,000 for Summer Programming
November 1, 2023 | Noel Morris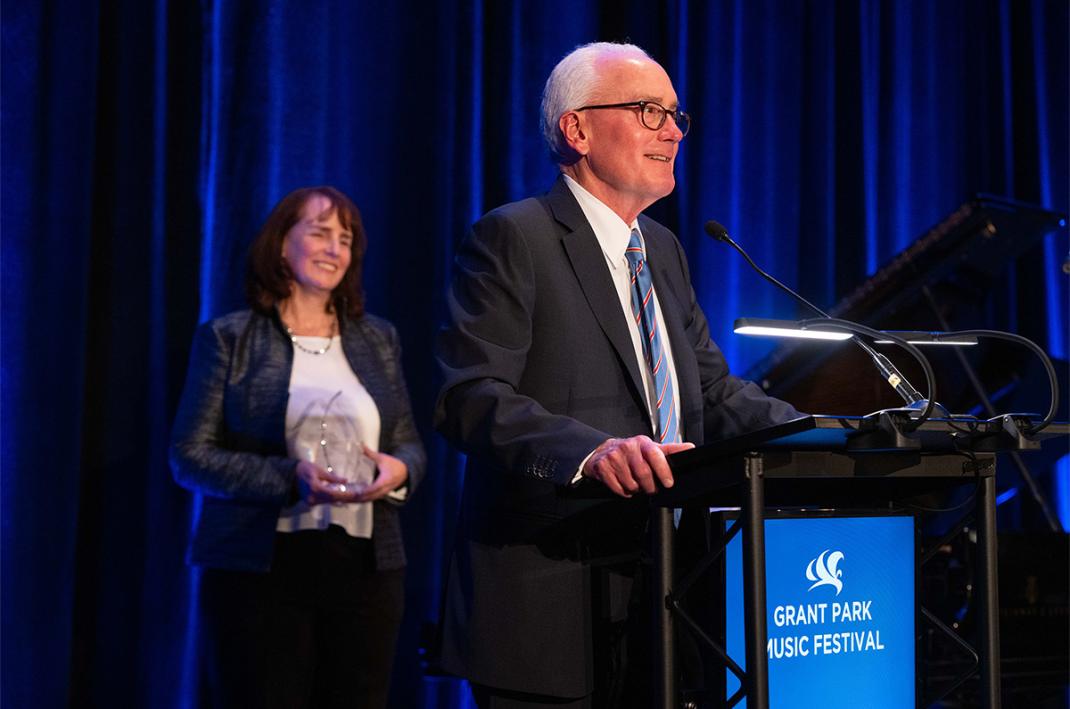 It was an evening of music, food, and fun, all in the name of free concerts in Millennium Park.
On Tuesday, October 10, Festival friends gathered for—what else?—good wine, a tasty meal and live music à la the Grant Park Music Festival. But this time, there was an added sense of purpose: to honor arts advocates and invite others to step up for the arts.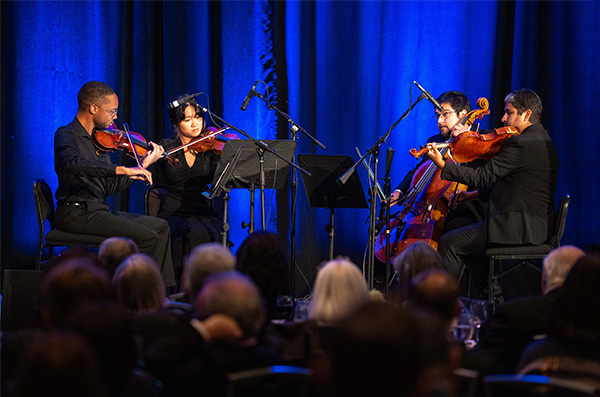 The Grant Park Music Festival raised one million dollars—a new record—at its signature fundraiser, the Advocate for the Arts Awards Benefit at the Fairmont Chicago Millennium Park. The funds raised will support the Festival's ten-week season of free classical concerts at the Jay Pritzker Pavilion in Millennium Park. Proceeds also support the Festival's robust education and community engagement programming.
Always, the presentation of the Advocate for the Arts Awards is a highlight of the annual event. This year's honorees include the multi-genre arranger, recording artist, and teacher Caitlin Edwards, who is an alumna of the Festival's young artist fellowship program; the Robert and Isabelle Bass Foundation, Inc., and philanthropist David Hiller, one-time president and CEO of the McCormick Foundation. All three were recognized for their transformative impact on the Grant Park Music Festival and the greater cultural community.
With CBS news anchor Irika Sargent serving as emcee, some 450 Festival friends and civic leaders attended the event. Guests enjoyed musical performances by acclaimed violinist Tai Murray and alumni of the Festival's String and Vocal Fellowship. The Festival's String and Vocal Fellowship is a professional development initiative that aims to increase diversity, equity and inclusion in the classical music field.
The Festival's Artistic Director and Principal Conductor Carlos Kalmar spoke eloquently about his love of the Grant Park Orchestra, and Chorus Director Christopher Bell hailed the singular eminence of the Grant Park Chorus.
Benefit co-chairs Pam Crutchfield and Phil Lumpkin presented the first award to the Robert and Isabelle Bass Foundation, Inc., praising the Foundation for fostering "opportunities for more Chicagoans, more young people, and more young artists, to take part in the artistic life of our city." Bass Foundation President and Treasurer Susan Noel accepted the award, acknowledging the legacy of her parents, Robert and Isabelle Bass. Robert Bass served as president of Borg-Warner Corp in the 1970s.
Conductor and violinist Kyle Dickson, a 2021 Advocate for the Arts Award recipient, presented an award to violinist and composer Caitlin Edwards.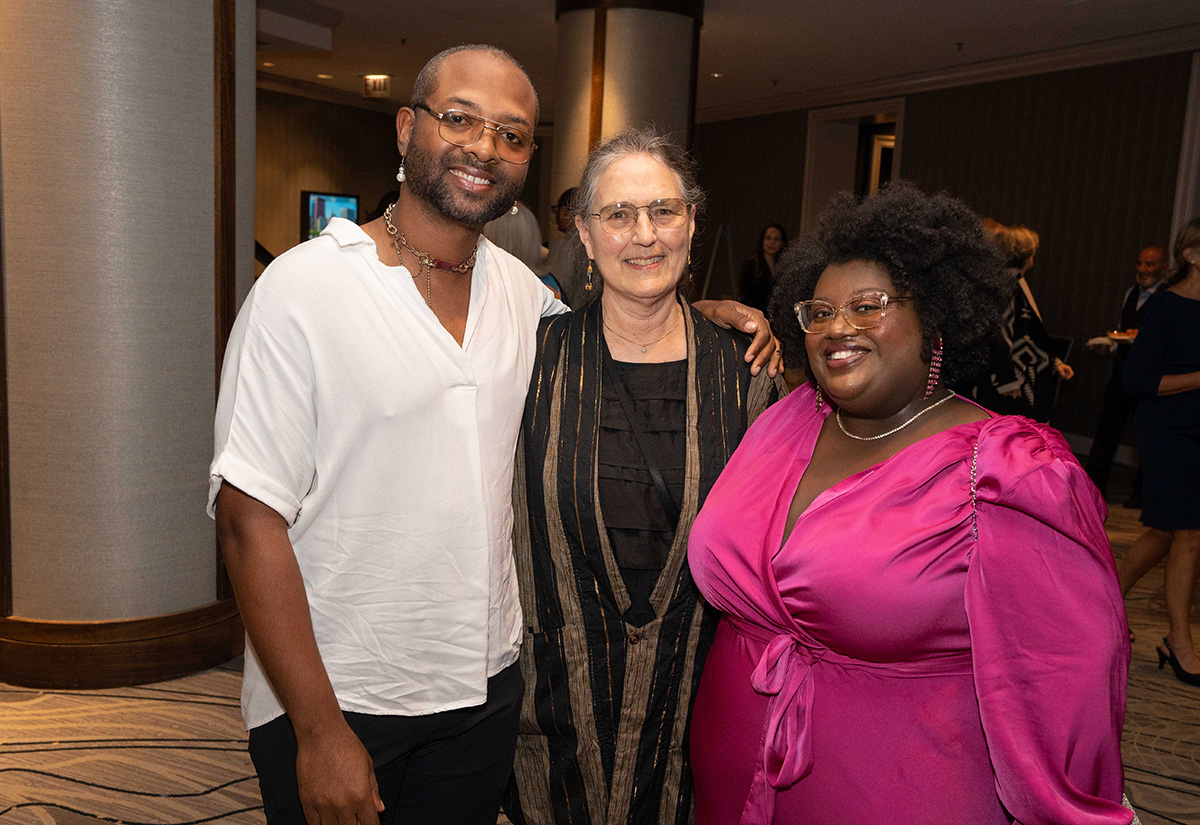 Both Dickson and Edwards are alumni of the Festival's String Fellowship. Since being part of the 2016 Fellowship, Edwards has gone on to play alongside Common, Chance the Rapper and John Legend.
"I was just 20 years old when I took a leap of faith—and a Greyhound bus—and traveled from my college town of Louisville, Kentucky, to Chicago for the first time to audition for the Fellowship," said Edwards. "That summer with Grant Park changed my life in so many ways."
Polk Bros. Foundation CEO Gillian Darlow presented the third and final award to the Chicago-based philanthropist David Hiller, who at one time served as CEO and publisher of the Chicago Tribune, and was later president and CEO of the McCormick Foundation. Even as he accepted his award, Hiller gave a heartfelt testimonial for the annual concert series.

"I can't imagine a summer in Chicago without the Grant Park Music Festival," he said. He went on to thank all the attendees for doing their part to support the Festival's mission. "I can't think of a greater gift to the city."