News & Stories
News
Grant Park Chorus in the Parks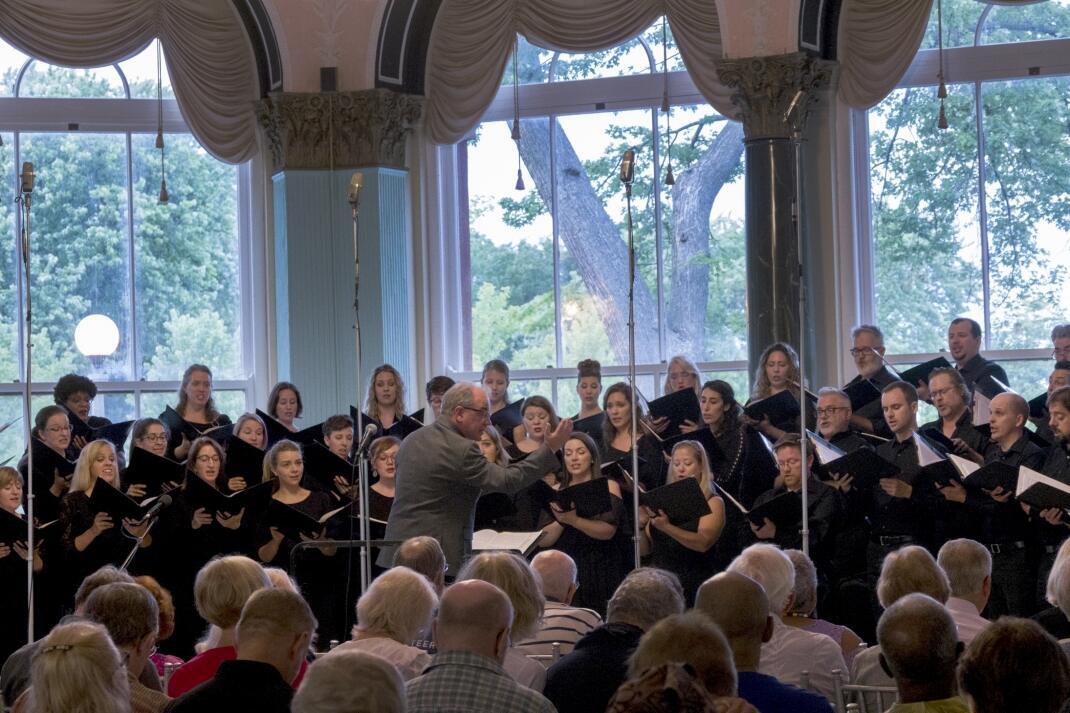 Join the Grant Park Chorus for an evening of a cappella works, as we go off campus to two of the city's cultural hubs: the Columbus Park Refectory (July 18) and South Shore Cultural Center (July 22).
Celebrating the legacy of music written by women, Festival Chorus Director Christopher Bell leads the Grant Park Chorus in performances of works by Clara Schumann, Fanny Mendelssohn, and the world premiere of Hands by composer Lori Laitman.
Hands (by American poet Robinson Jeffers)
Inside a cave in a narrow canyon near Tassajara
The vault of rock is painted with hands,
A multitude of hands in the twilight, a cloud of men's palms, no more,
No other picture. There's no one to say
Whether the brown shy quiet people who are dead intended
Religion or magic, or made their tracings
In the idleness of art; but over the division of years these careful
Signs-manual are now like a sealed message
Saying: "Look: we also were human; we had hands, not paws.
All hail
You people with the cleverer hands, our supplanters
In the beautiful country; enjoy her a season, her beauty, and come down
And be supplanted; for you also are human."
When asked how she goes about setting poem to music, Laitman shared: "I use the same process for composing all of my songs. My goal is to create dramatic music to express and magnify the meaning of the poem. I compose the vocal line first, custom crafting the melody to emphasize what I consider important in each line, but also taking great care to set the words properly for the singer. This enables the singer to then communicate the words effectively to the audience. My motto, adopted from soprano Lauren Wagner, is 'a happy singer is a good singer.'
WHERE TO HEAR THE GRANT PARK CHORUS
Thursday, July 18, 7:00 p.m. – 8:15 p.m., Columbus Park Refectory, 5701 W Jackson Blvd
Monday, July 22, 7:00 p.m. – 8:15 p.m., South Shore Cultural Center, 7059 S South Shore Dr
Free seating is available on a first-come, first-seated basis. Passes/tickets are NOT required for the free seats. Members can receive access to a reserved seating area by showing their membership card to an usher.