News & Stories
Interviews
Interview with Opera Star and Social Activist J'Nai Bridges
July 30, 2020 | Noel Morris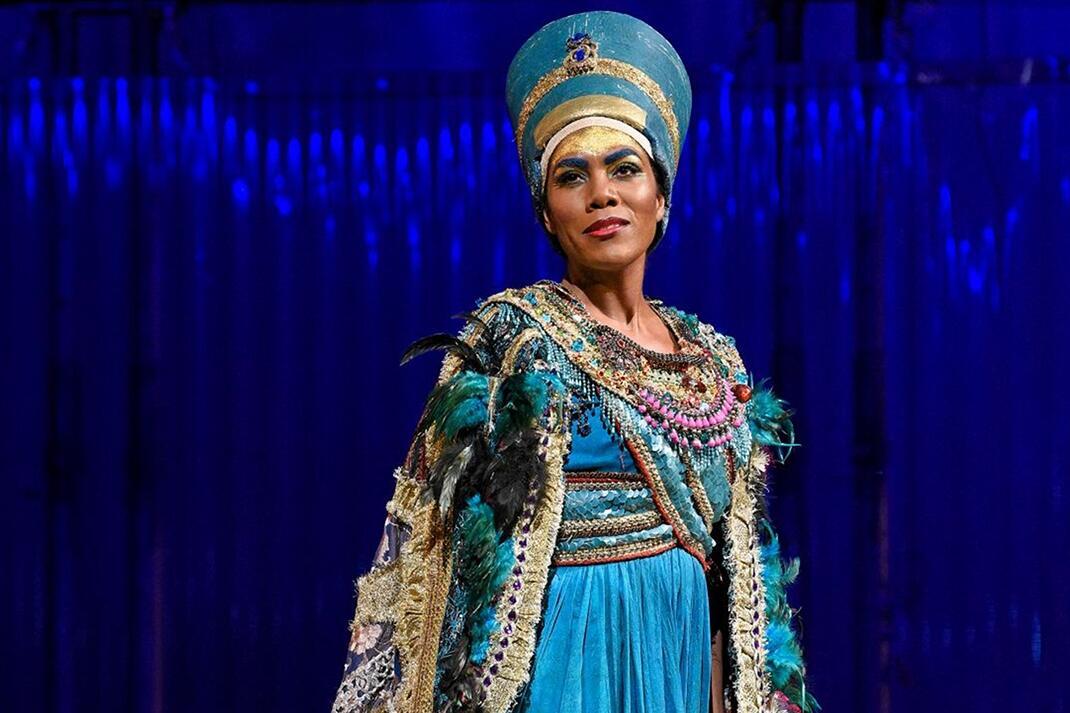 J'Nai Bridges talks about Chicago, losing her opera engagements, and the Black artists' struggle for equity.
From 2012 to 2015, J'Nai Bridges was part of Lyric Opera of Chicago's Ryan Opera Center. Many will remember her singing supporting roles on Lyric's main stage, and giving recitals at schools, churches and on local radio broadcasts. Since that time, Bridges has gone on to sing lead roles in major opera houses around the United States, including making her Metropolitan Opera debut last fall. With the advance of COVID-19, life for this rising-star mezzo changed suddenly. But she has adapted.
Recently, J'Nai Bridges spoke to Noel Morris about her life in the age of coronavirus, and her two appearances on the Grant Park Music Festival radio series (July 23 and August 12).
NM: Where were you when things started to shut down?
JB: So I was in the middle of singing Samson and Delilah; I was singing the title role of Delilah, at Washington National Opera in DC at the Kennedy Center, and our run got cut short. And it really just came out of nowhere. For me, it was so jolting. I had just come off of my Met debut singing Queen Nefertiti in Akhenaten, and the role of Delilah—I had prepared for so many years for it. So it was a real blow—just for everything to suddenly stop. And then, of course, the following engagements were cancelled. It was going to be a really, really big spring and summer for me. So to go from such a high to literally nothing. It was awful.
NM: But you managed to produce some videos under quarantine, right?
JB: You know, you go through different phases. The first one you go through is just shock and disbelief, and the second phase is, you want to fight back, so that's when I was really starting to create a lot of content, and try to use my platform to encourage people and stay relevant in a way. And then, I got tired of that actually, because I'm not on stage. Everything's virtual, and it's not the same—it's not as fulfilling. So then I became quite down and depressed. And now I've transitioned into the phase of acceptance, of finding alternate ways to use my voice, use my platform, and use my gifts. I've actually found that I can do more than sing!
NM: Tell me about the Hollywood Bowl.
JB: I was able to sing with part of the LA Phil—it wasn't the whole orchestra—but Maestro Gustavo Dudamel . . . and an incredible concert where we helped raise COVID-19 relief funds, and it was a global initiative. I joined mainstream artists like Jennifer Hudson, Miley Cyrus, Justin Bieber, Shakira, Coldplay—it was just an incredible event where I was given the opportunity to represent opera and classical music on a global level, and I'm just so grateful for that. It was the first live performance that I had done since March 8th or 9th. It was so great to be able to collaborate again with live musicians and for such an incredible cause. And that fundraiser ended up raising like $6 billion globally, so it was just amazing to be a part of.
NM: Wow!
JB: I know! While I was cut short of that run in DC, I was blessed and privileged with this opportunity that wouldn't have happened otherwise. And it's actually kind of exposed me to not only a different group of people, but literally the world. It was aired on NBC, MSNBC and global channels.
NM: Does lockdown impact your ability to perform?
JB: Yes. Definitely. It's hard on all levels, emotionally—even physically—we move, we use our bodies for a living and to be all of a sudden kind of stagnant has been challenging. So I have a new inspiration, just because that opportunity kind of jolted and kickstarted and woke me up in a way. Okay, opera houses are closed right now, but you can still use your voice and encourage people. And I've been teaching lessons and masterclasses and working on different projects.
NM: And that brings us to Black Lives Matter. You've posted some spirituals on Instagram in support of the movement. And then there was the panel discussion. Tell us about that.
JB: It was hosted by the LA Opera, and it came about because they asked me if I wanted to do a virtual recital. And I just wasn't in a place to do that. And I said . . . are you open to the possibility of me hosting a conversation about race and equity in the opera world? And they were completely open to it. I'm not sure if anyone has really openly discussed racism on such a large platform. It got such great feedback—it's now at over 100,000 views, and many opera houses . . . I interviewed five of my closest colleagues and they're all African-American opera singers, and they were just very transparent and open about the racism that they've experienced, and generous in ways of prescribing different ways that we can dismantle racism in opera and classical music.
NM: So our radio series catches you at two different points in your career. When you came to us in 2019, you had sung the lead in Carmen at the San Francisco Opera. And you were getting ready for your Met debut. Our first piece in this radio series takes us back to 2014, when you were a wee artist-in-training at the Ryan Opera Center. Do you feel like a different singer today? Or were you already fully baked?
JB: I definitely feel like a different singer. I adore the Ryan Center and I had such an incredible experience. I gained so much knowledge . . . But I'm definitely a different artist. I would say that I'm an improved artist, you know, and improvement has come with experience. Both vocally, musically, artistically.
NM: William Bolcom is a composer whose long-time musical partner is his wife. So, as a singer, do you feel he has a special affinity for writing for the voice?
JB: Oh, absolutely. When I sang "Toothbrush Time" at the Grant Park concert, that was the first Bolcom Cabaret Song that I ever sang. It fit my voice like a glove. It's clear that he not only has such a gift for writing for the voice, but specifically for mezzo, because his wife is a mezzo. And I had so much fun! Those Cabaret Songs are so fun to sing. I remember, when we were rehearsing, I was cracking up just listening to my colleagues and friends. It was almost as if he writes in a way, that yes, we're singing, but it's almost like you're telling a story and you're speaking—speak-singing almost. It's like sprechgesang. So definitely, he is a singer's composer, I would say.
NM: That's great. And then fast-forward to 2019 when we last saw you—"Urlicht"—that's probably an entirely different universe for you, right?
JB: Oh, absolutely. I love this symphony so much [Mahler's Symphony No. 2]. I've sung it many, many times. And to be able to bring it back to Chicago, where things all started for me professionally, was such a dream. And under the baton of Maestro Kalmar. He's so sensitive and has such a sensitivity and knowledge of German music. He really brought the best out of me. Although I've sung it so many times, I was able to find different colors and different nuances in this piece with his direction and with the collaboration with the orchestra. It's such a dream. And I find that this piece is always so relevant.
NM: What's it about?
JB: Well, "Urlicht" is . . . the text talks about man lying in greatest need. It's basically about eternal life and how we, as humans, live on this earth in pain and need. And heaven is always there for us. The light is always there. And I identify with that a lot. And I honestly don't even think you have to be a believer in heaven or God to feel the magnitude and beauty of this movement—the 4th movement in Mahler's Second Symphony—because it comes out of a kind of very intense, loud, bombastic music that ends on a very low (I think it's a low C where the basses play?) and the voice comes out of basically nothing. It's almost a relief to hear a very minimal orchestration with the voice. It's such a pure sound coming from such a thick orchestra before. Maybe relief isn't the right word.
NM: It's a point of arrival.
JB: Yes! That's a great way to describe it—it's a point of arrival. And I think in terms of where we are today in society, and the world, the difficult times. I actually often think of this movement because we're going through a lot of pain right now, a lot of need. But simply thinking about this movement lessens my anxiety, and it affirms to me that this won't last forever.
NM: That is so beautifully said.
JB: Oh, thank you.
NM: I'm just dying to ask you, because this has been such a signature piece for so many singers . . .
JB: Oh, yes.
NM: Mildred Miller, Marilyn Horne.
JB: And Janet Baker, Kirsta Ludwig . . .
NM: Do you feel like you're in hallowed community, to sing this piece?
JB: Absolutely! I mean, it's such a privilege to be able to sing this piece. I would say, it's a very specific voice, actually, and to be able to follow in the footsteps of so many great mezzos—it's an honor. Yeah, I'm grateful. I hope to sing it forever. A lot of singers have repertoire that they sing in the beginning or just a certain period in their career, and then it fizzles out. But this is a piece that I would like to sing forever, because I deeply connect with it.