News & Stories
Carlos Kalmar and the Lessons of 2021
October 4, 2021 | Noel Morris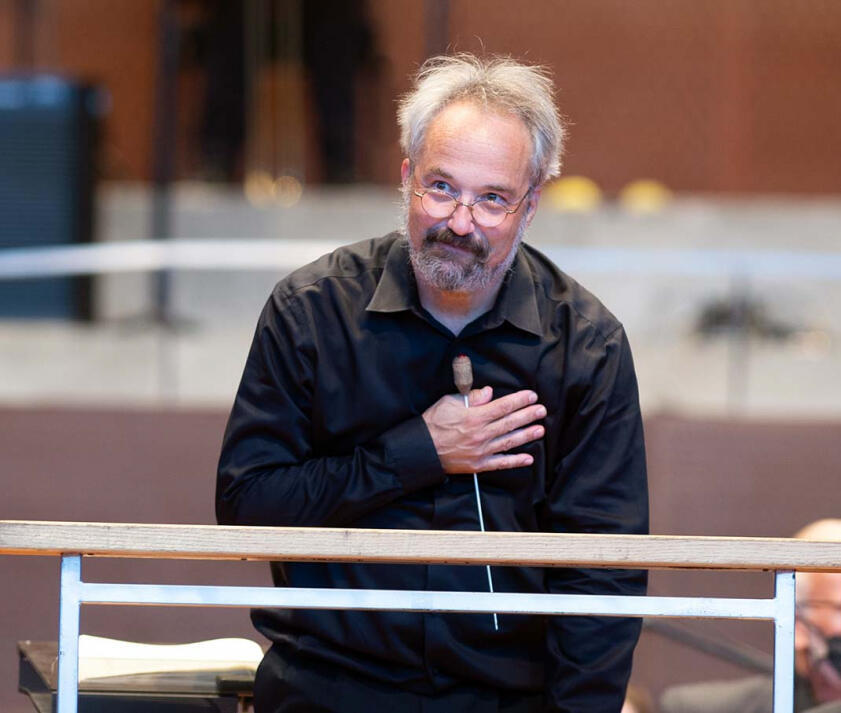 Of the many whose lives were upended by the pandemic, performing artists were especially hard hit. Most were cut off from making a living, and many had little or no ability to practice their craft. For Grant Park Music Festival Artistic Director and Principal Conductor Carlos Kalmar, that unplanned gap year, which preceded the 2021 Festival, coincided with a surprising development.
Drawing on a career that spans four decades, Kalmar stepped into a new role as principal conductor and director of orchestral and conducting programs at the Cleveland Institute of Music. As of September, he is working to guide young players along a career path, a role he is especially suited to play.
"I'm a conductor from the field," he said. "And so I've been invited to rethink the orchestral program and adapt it to the necessities of today. This means paying special attention, not only to core repertoire, but to expanding the repertoire. Also it is important to encourage a spirit of entrepreneurialism—something we've seen a lot during the pandemic."
Although he's coming off a bang-up season at the Grant Park Music Festival—there were record crowds and standing ovations nearly every night—Kalmar resists looking back; he has a busy schedule ahead of him. At the same time, he couldn't deny what an unusual summer it was.
"The first time I really felt it was when we did Brahms 3rd," he said. "First of all, I'm very attached to Brahms. And second, to see the effort of the musicians and hear what they are capable of producing, and realize this was something I had not done in Chicago for 600 days—that was really quite something."
While the Festival aspired to present to the public a concert series that felt as normal as possible (within safety guidelines), there were many adaptations behind the scenes. There were fewer musicians onstage; they wore masks, and the seating arrangement was more spread out—all of which impacted the choice of repertoire. With fewer musicians onstage, certain works were shelved in 2021, while others rose to the top.
"Probably every choral piece I conducted this season wouldn't have happened in a normal year," said Kalmar. "Not because this music isn't worthwhile, but because I typically have more musicians onstage. If you're paying an ensemble of a certain size, you have to choose music that's appropriate. It's a business decision."
"There were two concerts that were very meaningful for me personally: Haydn, the Nikolai Mass, and the Schubert Mass in G," Kalmar mused. "This is going back into my youth when I was the chorus director for two churches in Vienna. So we're talking roughly 1982-83. To revisit this music and to do it with a chorus at this spectacular level—this was very special for me."
As it happened, Festival 2021 hit a sweet spot: tens of thousands of people emerged—seemingly at once—from months of isolation, and perhaps with a greater appreciation for the city's cultural assets. And gone was the ability to take live music for granted.
"I was very uneasy before we started because I didn't know if we would be good to go or if the city or the governor—or who knows?—would step in and shut it down," acknowledged Kalmar. "I'm still in the mood where I'm thinking, 'Things can still go wrong because of COVID.' In that sense, I think it was important that we had this summer for everybody involved. Whether they were playing or listening, the power and the meaning of having these concerts cannot be measured. I found myself looking out at all the joyful people and thinking: 'Well this is what life is all about.'"