News & Stories
For the Love of the Festival
December 7, 2021 | Noel Morris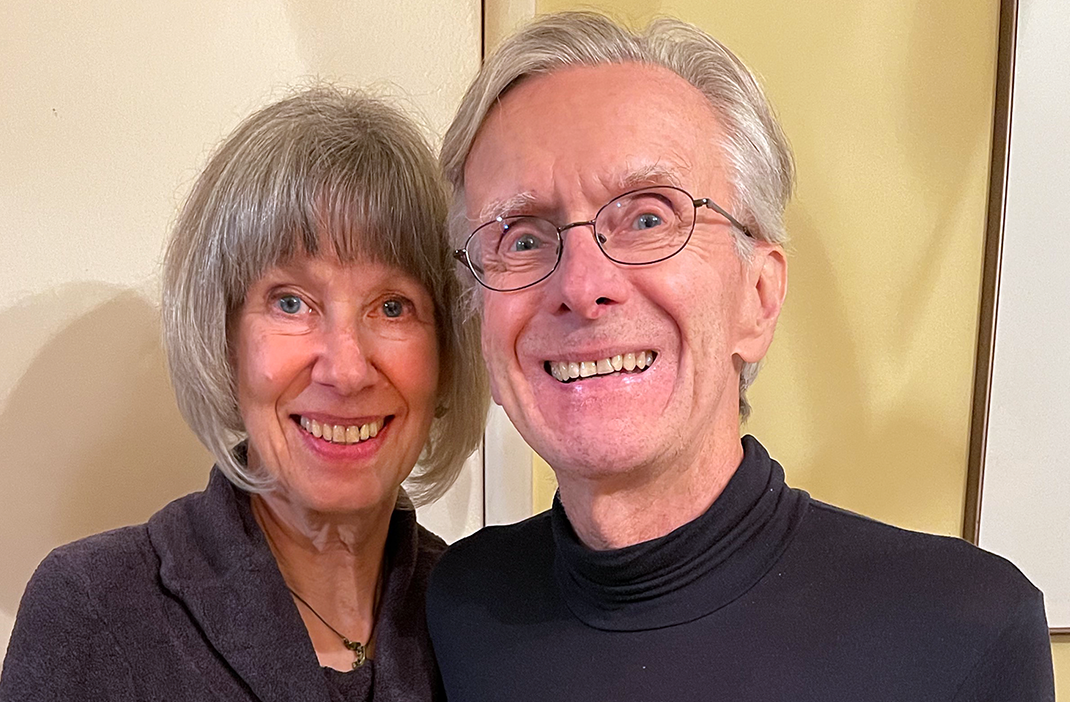 They didn't come from musical families. Neither of them played instruments. But something happened when they walked into Millennium Park.
Jim Goodridge and Joan Riley, two Grant Park Music Festival superfans, met at Loyola University Chicago School of Law. He became a law librarian; she went to work for a company. As longtime Chicagoans, they had a history of attending the occasional Independence Day concert, back when the Orchestra played at the Petrillo Music Shell. But it wasn't a priority—then along came Millennium Park.
"For the last seventeen or eighteen years—since the Pritzker opened—we've been subscribers; we block out the mid-June to mid-August period and go nowhere," said Goodridge. "That's been our modus operandi since the Pritzker opened in '04."
Over that period of time, Goodridge and Riley got to know the people who sit in nearby seats.
"We were the rankest of rank beginners," grinned Goodridge. "One of our seat-mates is very, very, knowledgeable about classical music, and we turn to him for information all the time."
For Riley and Goodridge, coming to the Festival is something that touches the spirit on many levels. "The inclusiveness goes all the way back to the Great Depression," said Goodridge. "This notion that they're going to make great classical music available to everybody; they're going to employ musicians, and they're going to make it free and cheer people up, give them a place to go and have a picnic—that tradition continues eighty-five years later. You feel the connection there."
"The outreach is so important to us," said Riley. "We love the Classical Campers program and the fact that the Project Inclusion fellows play the Night Out in the Parks concerts. We've even gone to a couple of those. I think it's so wonderful to bring concerts to people in their neighborhoods, and let them enjoy. That's very important part for us."
Riley and Goodridge have also relished hearing Festival musicians play chamber concerts.
"We heard Eric Kutz give a recital," said Riley. "We've always liked cello music, and we were so impressed with his artistry, we decided to sponsor him." Kutz, who lives and teaches in College Park, Maryland, has been a member of the Grant Park Orchestra cello section since 1999. Part of an innovative way to further engage Festival enthusiasts, musician sponsorship fosters a greater connection between supporters and the onstage ecosystem. "During last year's quarantine, the fact that he recorded Bach's cello suites and made them available to the Festival virtually, just blew us away."
For Riley and Goodridge, the 2020 shut-down was challenging, but it also brought some things into focus. "It did something to us to make us realize just how important music is," said Riley. "I think one of the most memorable moments for us was when Carlos welcomed everyone back. A few tears were shed at that time."
Over the past two decades, Joan Riley and Jim Goodridge have become two of the most present people at Grant Park Music Festival events. Typically, they'll attend two and three times a week during the Festival season, and have even extended their support through the Festival's legacy program, the Nikolai Malko Society. A way to pay it forward, the Malko Society, named for a one-time Festival music director, allows for supporters to provide for the Festival in their estate planning. "I can't think of a better organization to include [than the Grant Park Music Festival]," said Goodridge.