News & Stories
Musicians at Home—Rika Seko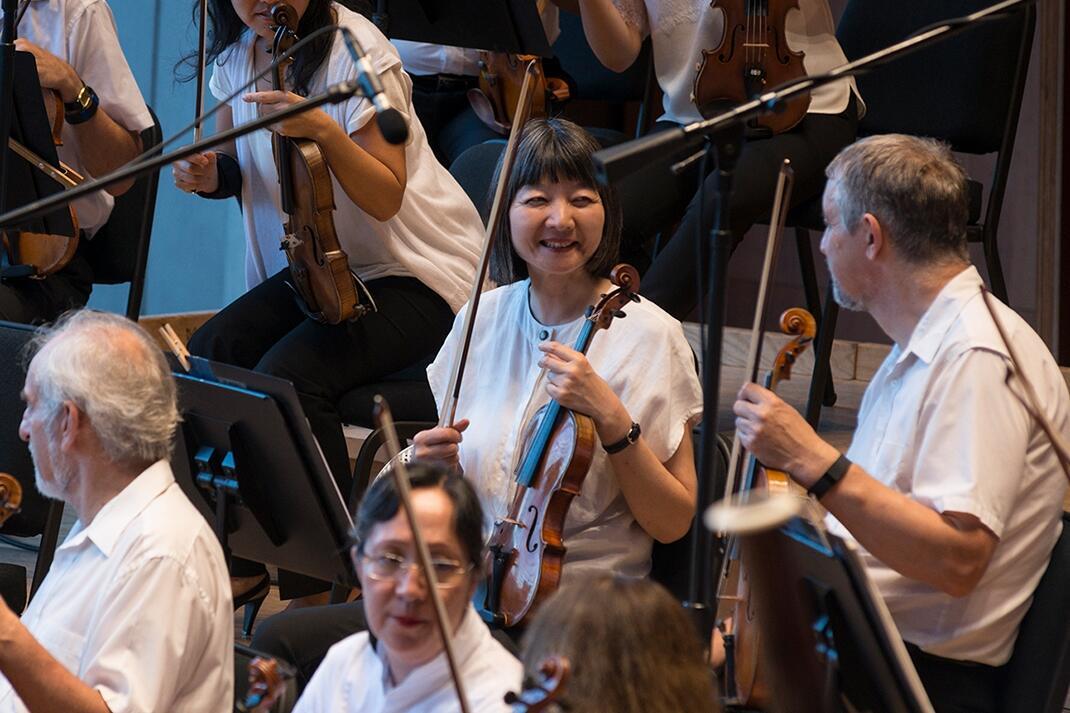 Grant Park Orchestra violinist Rika Seko is not accustomed to sitting around.
In fact, after graduating from Tokyo University of the Arts, she moved to Bogota Colombia to play in both the Colombia Symphony and the Bogota Philharmonic Orchestra. She also took up a busy career as a soloist and recitalist. She moved to Chicago in 1994 to play in the Grant Park Orchestra, Music of the Baroque, and the Elmhurst Symphony, where she serves as concertmaster. When COVID-19 brought the performing arts to standstill, she suddenly had to grapple with something new: free time.
In Part 2 of our series Musicians at Home, we asked her two questions: 1. What have you been up to? 2. What is something good that happened in 2020 (because, let's face it, we could all use some good news). Here is her story: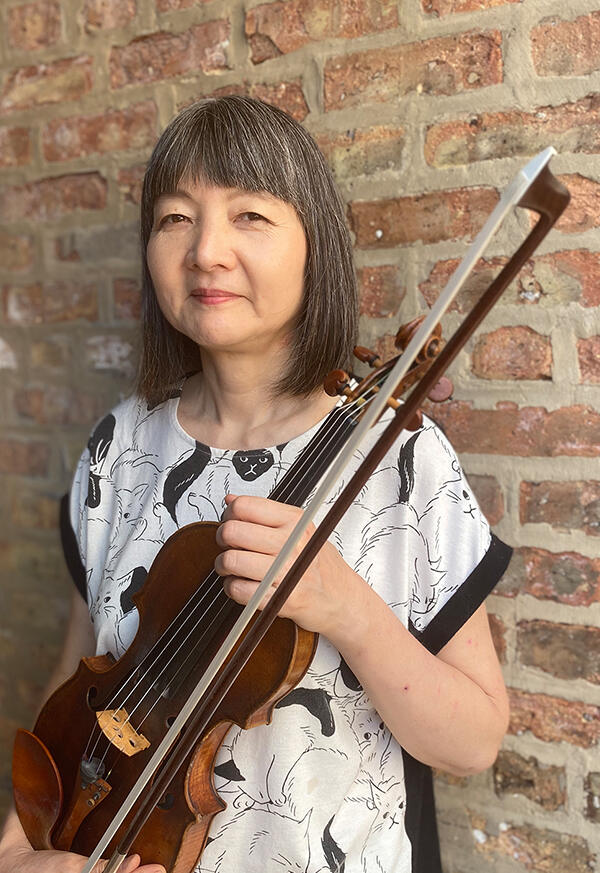 Earlier in spring and summer, I was able to connect to friends/colleagues who live in different places, taking advantage of the fact that no musicians were working anywhere in the world. We had a few group Zoom/FaceTime meetings with friends from high school (I went to a music high school), connecting those in Europe and various cities in Japan. Also, I was able to do some virtual chamber music projects with my friends/colleagues in Colombia, Tokyo, and Chicago (see video below).
I indulged myself with luxurious practice—working on technical problems that I never had time to address. Once it got warm outside and the virus in Illinois got better, I got involved in two groups of string quartet/quintet meetings outdoors. Playing repertoire that I had never before had a chance to learn—just for the sake of itself—has been gratifying. We are now looking for ways to somehow safely continue the meetings as the temperature cools.
On the homestead, I discovered that the reason my house is rarely clean is not because I don't have time to clean. It is because I don't like to clean (even though I definitely prefer a clean living space). I found that when I know I have time for cleaning tomorrow and the day after too, it actually becomes harder to tackle the task. I did spend much more time in my yard than usual, just enjoying the outdoor air, tending flowers and herbs I had planted. I took in some Monarch and Swallowtail caterpillars and raised them indoors, as their survival rates outdoors are quite low. Seeing them grow, and go through those magical transformations into adult butterflies that land on my flowers has brought lots of joy!
On a more serious note, the civil unrest this summer gave me a chance to get better informed about US history and social justice. Before, due to the lack of background, many things used to make no sense to me. But there were a lot of informative films and articles available this summer, and I could take advantage of my extra free time. (Read the Chicago Sun-Times story about Rika Seko and social activism during the summer of 2020.)
As for sharing something positive that happened in 2020, Rika Seko responded: "All of the above, (including self-awareness of my dislike for cleaning)."
Watch Rika Seko playing a virtual duet with a friend from Bogota, Colombia, violist Aníbal Dos Santos. This video was produced during the 2020 quarantine.