News & Stories
Insights
Piano Virtuoso Conrad Tao Returns Home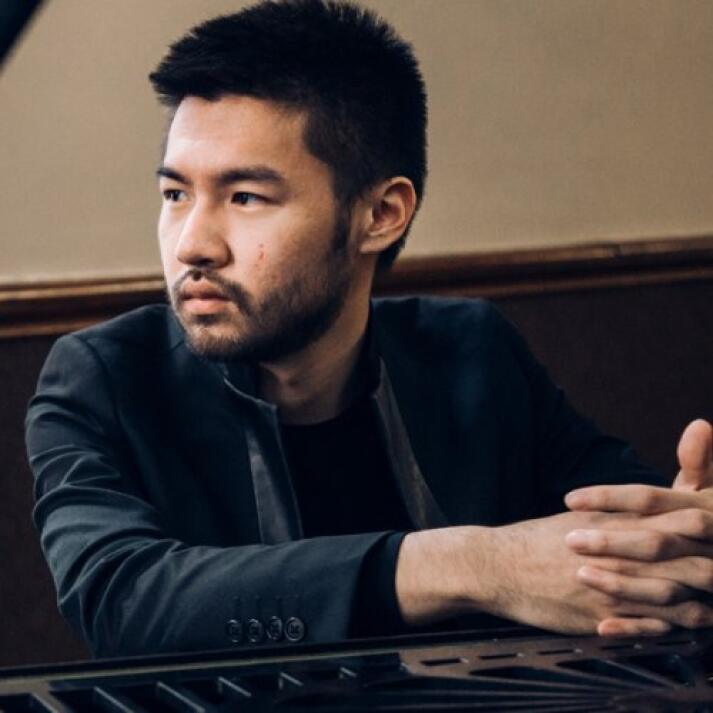 An Illinois native and former student of the Music Institute of Chicago's late, legendary faculty member Emilio del Rosario, award-winning Chinese American pianist Conrad Tao returns to the Pritzker Pavilion to perform Shostakovich's delightful Piano Concerto No. 2 on Wednesday, July 31 at 6:30 p.m.
In 2017, Conrad "made a most impressive Grant Park Music Festival debut" that was "undeniably thrilling" (Chicago Classical Review). Chicago audiences may also remember Conrad from his time as Composer-in-Residence with Music in the Loft and from WFMT-FM's airwaves as both a performer and composer. What's more, Conrad won't be the only award-winning Music Institute alum performing on stage on July 31. Grant Park Orchestra violinist Laura Park studied there from 2006-2012.
Born in Urbana, Illinois in 1994, Conrad was found playing children's songs on the piano at 18 months of age. He started formal lessons at age 3 and gave his first recital at 4. While living in Naperville, he was a student at the Music Institute from 1999 to 2003. In addition to his piano studies with del Rosario, Conrad studied violin with Music Institute faculty member Desiree Ruhstrat (Lincoln Trio, Black Oak Ensemble) and – at the suggestion of del Rosario and Ruhstrat – studied composition with MIC's Matthew Hagle.
Says Hagle, "Conrad was very young, only five years old, when he started studying music theory and composition with me. He had a very fine ear, and was a gifted pianist, but there were two qualities that set him apart even from other highly gifted students. First, he had a restless quality to his intelligence, which made learning new ideas as natural and necessary as breathing. Second, he was intellectually fearless. Mistakes never happened twice. Since then, he's continued to explore and challenge himself because that's part of who he is, and those qualities have helped make him into an outstanding professional."
Conrad made his piano concerto performance debut at age 8 with the Utah Chamber Music Festival Orchestra. The first piano concerto Conrad composed, called The Four Elements, premiered in 2007 by the ProMusica Chamber Orchestra. In the 2011–2012 season, Conrad returned to the Music Institute of Chicago to perform on the Faculty & Guest Artist Series at Nichols Concert Hall.
Already, Conrad has performed with many of the world's leading orchestras and has given recitals across North and South America, Europe, and Asia. He is a U.S. Presidential Scholar in the Arts, a Davidson Fellow Laureate, and an Avery Fisher Career Grant awardee. His other accolades and awards include being named a YoungArts Gold Medal Winner, a Gilmore Young Artist, and a Lincoln Center Emerging Artist. As a composer, he garnered eight consecutive ASCAP Morton Gould Young Composer Awards from 2004 to 2011 and received the Carlos Surinach Prize from BMI.
In addition to his concerto performance with the Grant Park Orchestra, Conrad will lead a free Visiting Masters master class at the Chicago Cultural Center in the Claudia Cassidy Theater on Tuesday, July 30 at 5:30 p.m. Currently a scholarship Fellow in the Music Institute's Academy for gifted pre-college musicians, 16-year-old Yerin Yang is one of the featured students participating in the class. Yerin started playing piano at age 5 and, most recently, took First Prize, Best Performance of Solo Work Award and the Young Jury Award at the 2018 Arthur Fraser International Piano Competition. Also in 2018, she won the Chicago Symphony Orchestra Young Artists Competition.