News & Stories
Project Inclusion Alum Kyle Dickson Talks about Race and Social Activism
February 2, 2021 | Noel Morris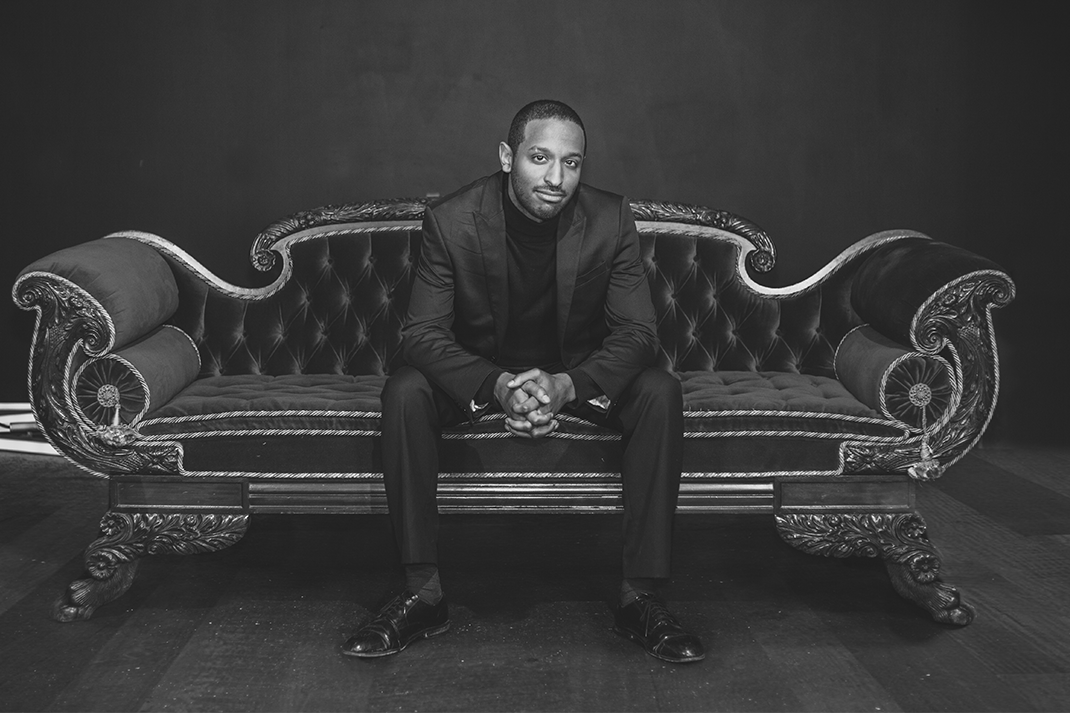 "I think being a mentor to black and brown kids made me a social justice warrior—because I have to protect my students."
Music has always lived at the center of the struggle for human rights. Mozart championed the working class in The Marriage of Figaro; Nina Simone sang protest songs and marched alongside Dr. Martin Luther King, Jr. With unprecedented connectivity—and a lot of pandemic-induced extra time on their hands—today's classical musician has stepped into the fray like never before.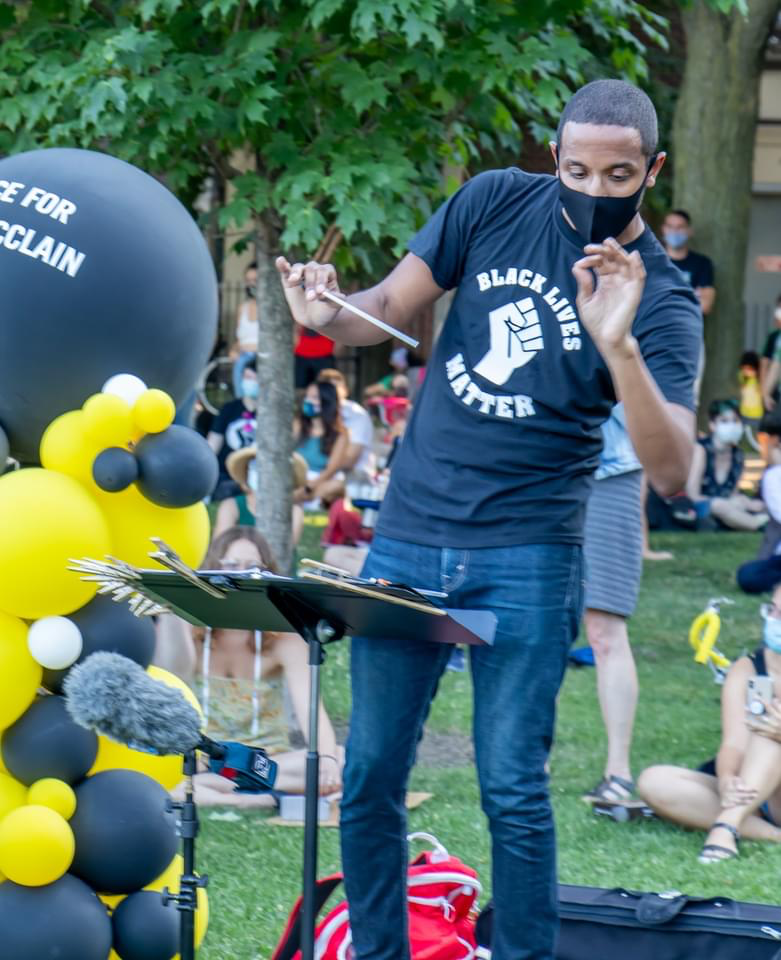 Before COVID, Kyle Dickson was juggling an active teaching career while studying and working as a graduate assistant in conducting at Northwestern University. But 2020 threw him a curve ball. The pandemic halted live performance and in-person education. Meanwhile, a rash of killings at the hands of police officers placed him at the center of a Black Lives Matter protest—one inspired by the death of a violinist.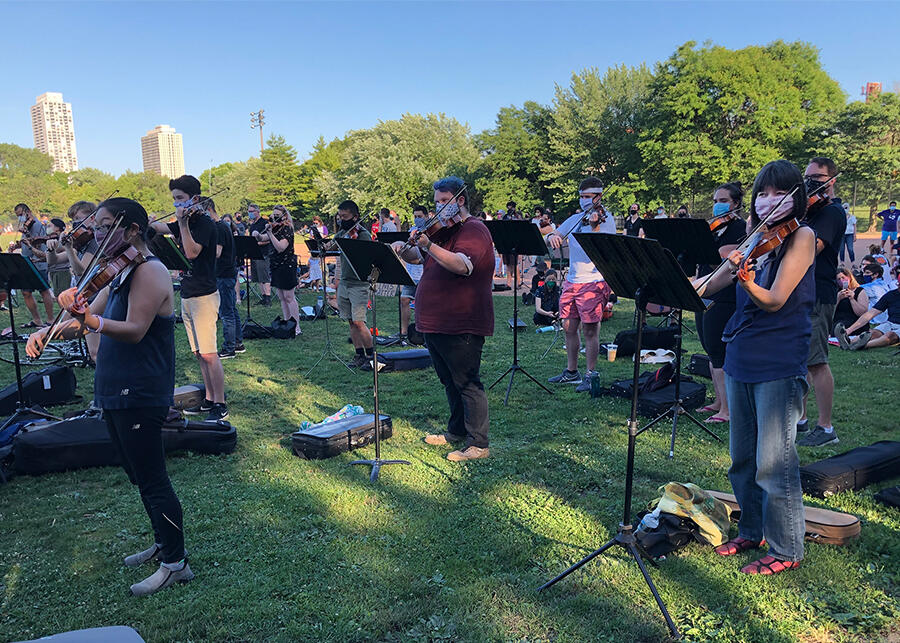 "When I was asked to be the conductor at the Elijah McClain vigil, I was simultaneously honored and horrified," said Dickson. "I was nervous about doing it because it meant so much to all of us. This was a person who belonged to our community."
Elijah McClain was a 23-year-old Black violinist and massage therapist who died after a police officer placed him in a chokehold. According to the report, the unarmed McClain had been accused of "looking sketchy." In the midst of last summer's Black Lives Matter protests, string players held musical vigils in cities across the country in McClain's memory. Organizers for the Chicago vigil included violinist Rachel Barton Pine and several of the Festival's Project Inclusion alumni, including Dickson, who served as conductor.
An upbeat, easy-going man, Dickson (30) grew up in a Black, working-class neighborhood in Detroit where he had been one of many 9th-graders to join the school orchestra. As a child, racial injustice was a nonissue.
"I don't think I was born an activist," he said. "I was pretty sheltered. My parents were able to raise me in this bubble to protect me. I don't think I was really aware of racial disparities until college when suddenly I was the only black kid in the orchestra."
That's when he experienced something that's been described by many Black musicians: "It isn't necessarily explicit," he said. "It's just this feeling that the other musicians aren't adopting you as one of their own."
When asked if he could recall a specific encounter, he demurred. Instead he reflected on what he called "this odd dissonance" between his experience as a member of a mostly-black orchestra in high school and a mostly-white youth orchestra in the suburbs.
"There was a real difference in the way I was perceived," he said. "I mean you can attribute it to kids being kids. They're cliquey anyway. And it's not like you're trying to draw a line. So you dismiss it at first, and think, 'maybe I'm being paranoid.' But when you start to see a trend and you add to that a series of societal messages, the feeling just snowballs."
Comparatively speaking, Dickson got a late start on the violin. He began playing in the 9th grade. His high school orchestra director soon identified him as a promising student and referred him to the Detroit-based Sphinx Organization, an advocacy group for Black and Latinx classical musicians.
"I wouldn't be here if it weren't for some amazing teachers," said Dickson. "I had some catching up to do. And they got me over that hump."
As a young professional, Dickson won positions in the Project Inclusion programs at the Grant Park Music Festival (2014) and at Chicago Sinfonietta before completing his masters degree in violin at DePaul. He also started teaching in local music schools.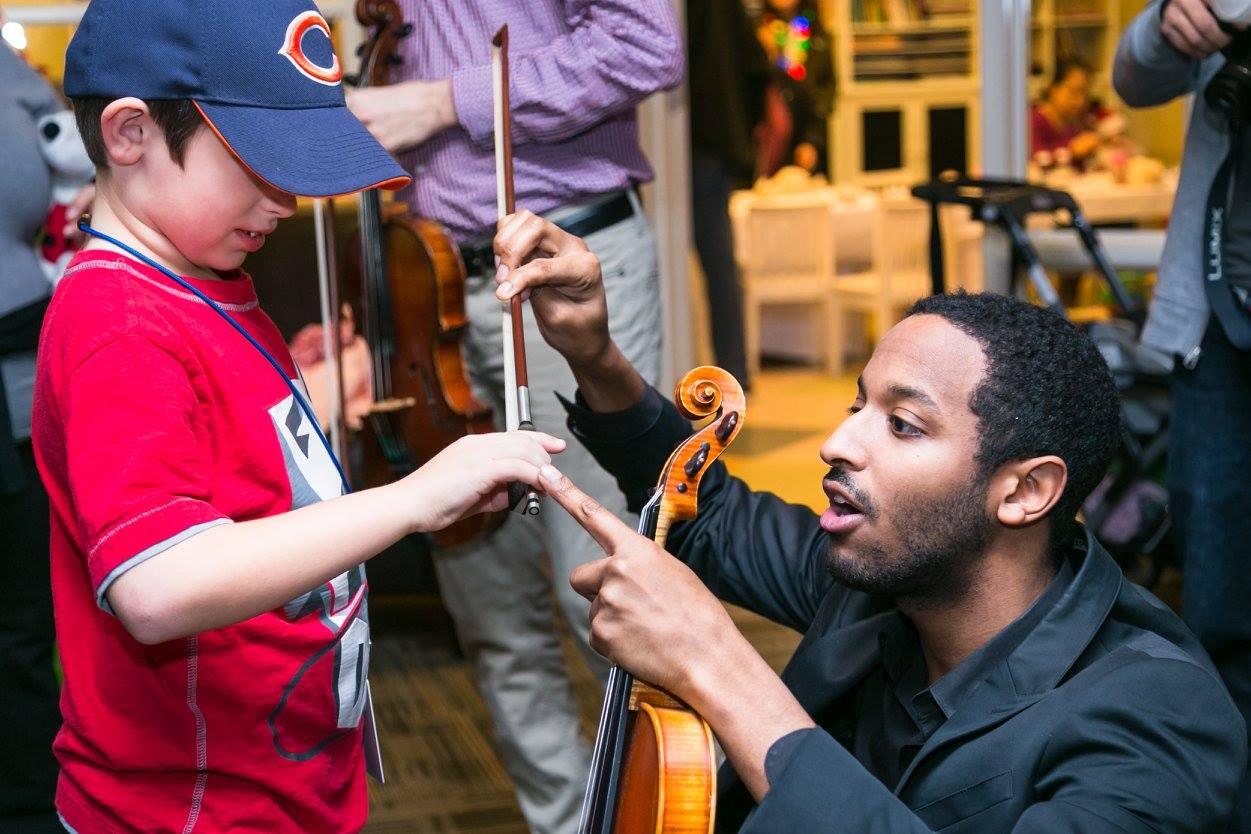 "I've always wanted to be a teacher. Before I realized I was a musician, I wanted to be a teacher," said Dickson. "I think being a mentor to black and brown kids is what made me a social justice warrior—because I have to protect my students."
Dickson earned his undergraduate degree in music education, which instilled in him the importance of providing good role models, something he feels has been missing in many youth programs.
All too often, he laments, youth concerts involve bussing black and brown kids to concert halls, places they've never visited with their parents. There, they hear sounds and a type of music that are foreign. And they can see that nobody on stage or on staff looks like them.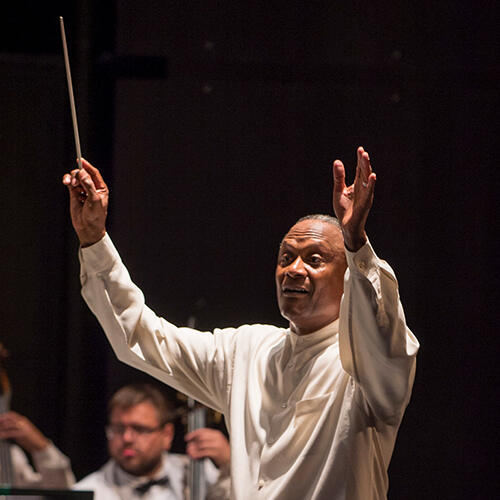 "It's a tall ask," said Dickson. Given his own life experience, he feels these efforts are diminished by a lack of people who reflect the audiences that orchestras are trying to reach. "I remember going to see the Detroit Symphony on a field trip when I was in the third grade, and the resident conductor at the time was Thomas Wilkins." (Wilkins is Black and a veteran of the Grant Park Music Festival.) "It was the first orchestra I had ever seen. And it didn't occur to me that Black people don't conduct symphony orchestras. And that opened a world of possibilities for me," one that has continued to grow.
"Through my work at Chicago Sinfonietta and Sphinx," he said, "I was introduced to the wealth of contributions that black and brown composers have provided classical music going back many generations. And falling in love with that music instilled in me a sense of responsibility—that I needed to share this music with as many people as possible." And this has become one of his favorite teaching tools.
"I know it's important for my students to see people that look like them playing classical music. For me, whenever I have an opportunity to teach them a concept through black repertoire, I'll do it."
And there is a social justice component to his teaching philosophy: "It's not to throw out what we've had before. It's about making classical music more representative by showing the whole truth." That is, celebrating its wealth of black artists and composers, alongside everyone else..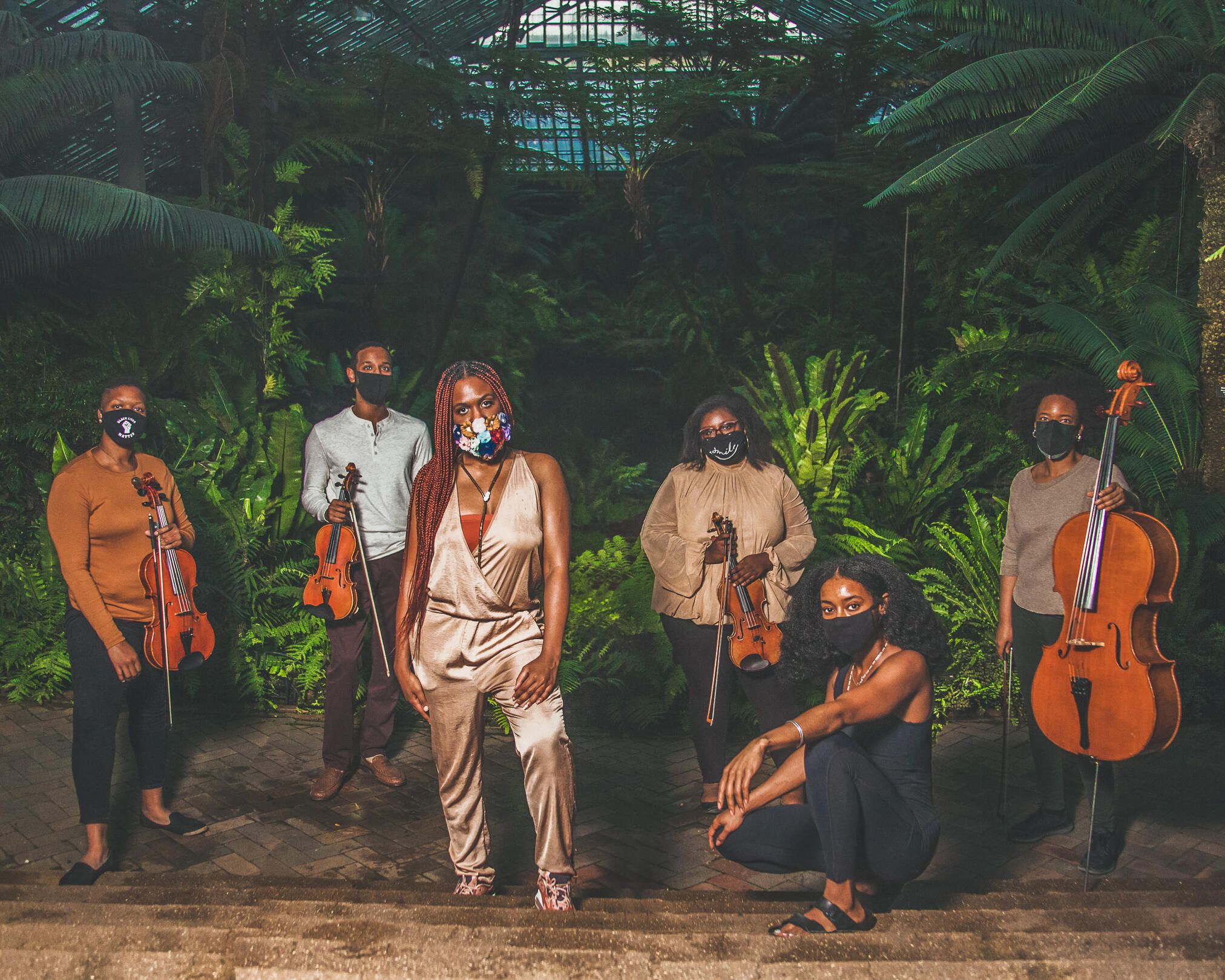 Although Dickson has been branching out into conducting, he continues to be an active violinist. As a member of the chamber ensemble D-Composed, he has gone deeper into Black repertoire, sometimes reaching across genres. Already he's collaborated with Common and Chance the Rapper.
Dickson's foray into conducting came out of yet another formative aspect of his life: at the age of 16, he was diagnosed with multiple sclerosis.
"Thankfully, I was able to go without incident until three years ago," he said. "And I can still play, but I'm trying to be proactive." That's when he entered Northwestern to pursue his second masters degree, this time in conducting. Meanwhile, the opportunities keep rolling in. Already, he serves as music director of the South Loop Symphony Orchestra, and has been named assistant conductor at Spoleto Festival USA in Charleston, South Carolina.
As a Black classical musician, Dickson has benefitted from having strong role models throughout his life; first with the Detroit Symphony, then in school and with the Sphinx Organization, and later as a Project Inclusion fellow.
"I feel like I learned how to be a musician through the Project Inclusion program. In school, there's so much you don't learn about how orchestras operate—like how to keep up with the pace." In fact, school orchestras often spend weeks, if not months, preparing a program, whereas the musicians of the Grant Park Orchestra play two separate programs per week.
"I think equipping Black and brown musicians with those skills helps accomplish what I was talking about earlier—it helps with representation. If these fellowship programs help to populate our orchestras and chamber groups with Black and brown faces, it opens up a world of possibilities for the next generation."