News & Stories
Seasonal Fun in Millennium Park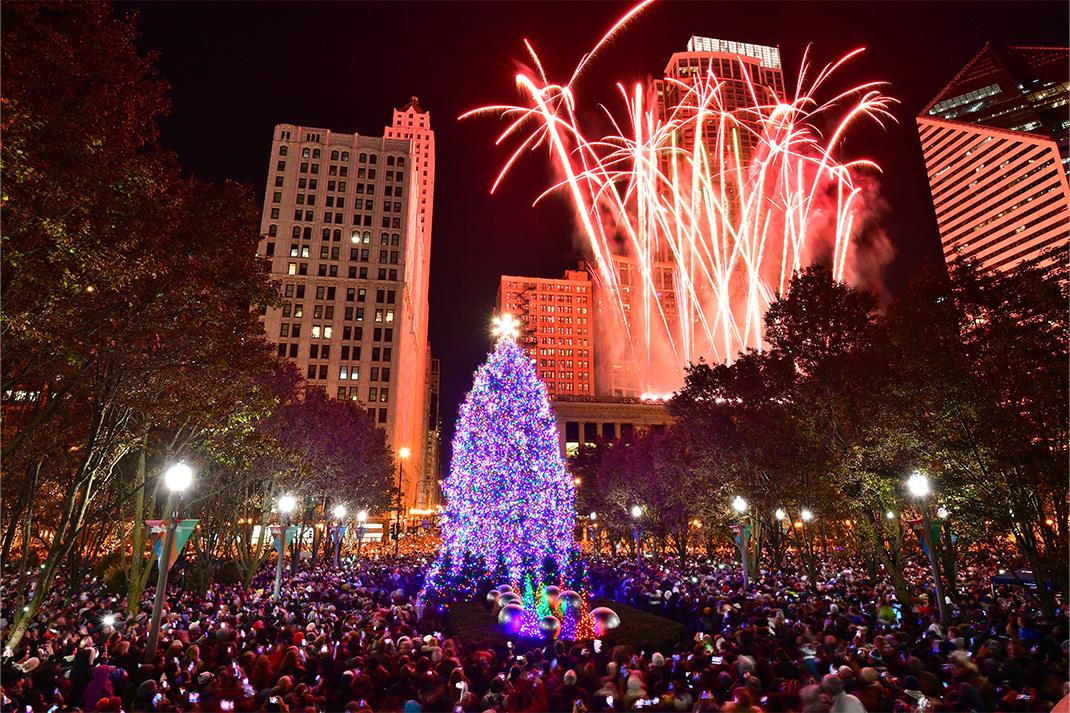 Grab a caramel apple butter latte and enjoy the season's offerings, from caroling to ice skating to the tree lighting to the Holiday Art Market.
Christmas Tree Lighting Ceremony
November 17, 2023
5 PM - 7 PM
The 110th Annual City of Chicago Christmas Tree in Millennium Park will shine brightly near the intersection of Michigan Ave. and Washington St. from November through mid-January. This year's Tree Lighting Ceremony, presented by Powering Chicago, with leadership support from the Millennium Park Foundation and the Pritzker Foundation, will be on Friday, November 17. Emceed by Joe Donlon and Irika Sargent of CBS 2, the 2023 event will include multiple viewing locations with screens and concessions across the Park and a main stage on Washington St. with the traditional Tree Lighting Ceremony, followed by fireworks. Families are invited to join the festivities for an evening of joyous celebrations.
Millennium Park Holiday Art Market
November 17 - 19
Friday and Saturday 12 PM - 8 PM
Sunday 12 PM - 5 PM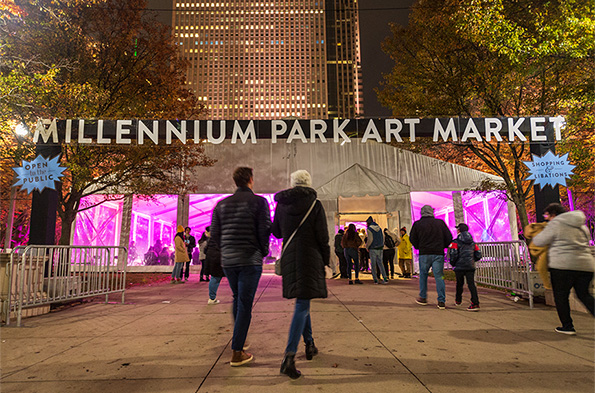 Enjoy shopping, live entertainment and concessions at the Millennium Park Holiday Art Market. The opening of the market is aligned with the 110th Annual Christmas Tree Lighting Ceremony on November 17 and will be open through the weekend. Located in the Chase Promenade North tent, the Holiday Art Market features dozens of local artists selling a variety of items including jewelry, pottery, drawings, paintings and more. The diverse market also features vendors from a variety of arts organizations. Holiday themed food, hot drinks, and cocktails will be available, along with live music. The Holiday Art Market is made possible by the generous support of the Pritzker Foundation.
Millennium Park Sing-Alongs
Wrigley Square
Fridays, December 1, 8, 15
6 PM - 7 PM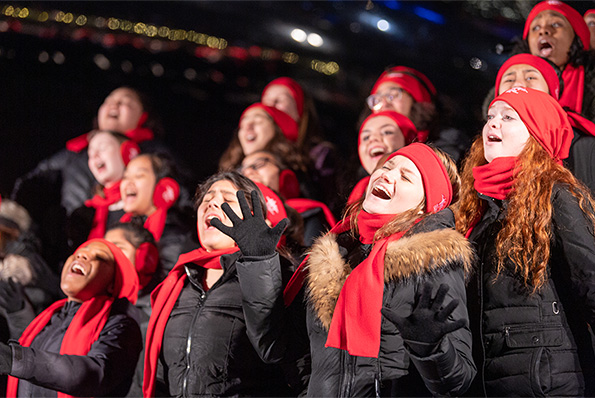 Bundle up and belt out songs in celebration of Chicago's diverse holiday traditions in Millennium Park's Wrigley Square on Fridays, December 1, 8, and 15. Each week features a local Chicago choral group leading guests and families in song. Sing-alongs begin at 6pm. The Holiday Sing-Along is made possible by the Millennium Park Foundation with generous support from the Pritzker Foundation. The Holiday Sing-Along is made possible by the generous support of the Pritzker Foundation.
Ice Skating at McCormick Tribune Ice Rink
November 17 – March 3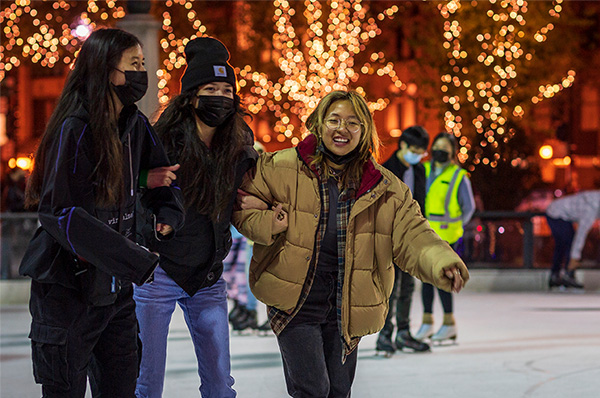 Ice skating at the McCormick Tribune Ice Rink in Millennium Park, presented by Hilton, returns November 17 through March 3 (weather permitting). DCASE presents free skating lessons (reservations required) from 9am-10am on most Saturdays and Sundays, teaching beginner and intermediate ice skating and hockey skills. Free lessons are made possible by the McDonald's Active Lifestyles Endowment managed by the Millennium Park Foundation.