News & Stories
Insights
Amy Boonstra, Board Member and Festival (Cheer)Leader
March 1, 2023 | Noel Morris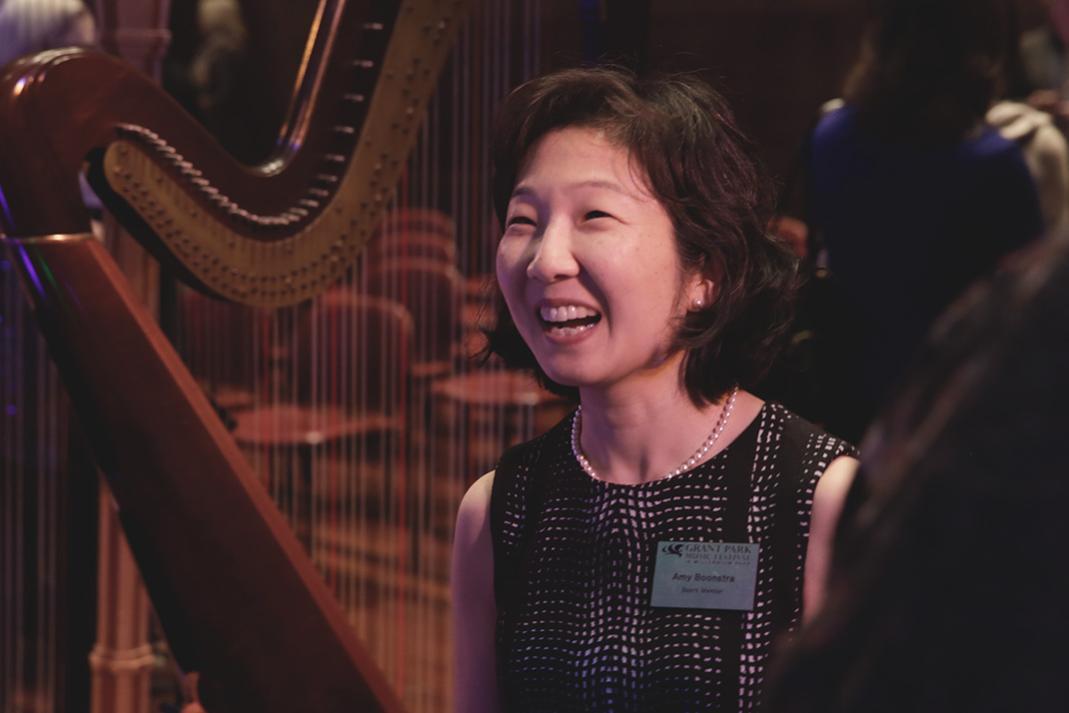 In every successful organization, there are people working behind the scenes who go above and beyond to support, enhance, and elevate the work of that organization.
Always, the Grant Park Music Festival has been a "people business." It's about bringing folks together from all walks of life to share in the experience of music. And this people-business mantra radiates throughout the organization. But even among a collective of Festival devotees, you can't be around the organization for too long without meeting Amy Boonstra, a board member and tireless cheerleader for the Festival's staff and the more than 200 live events. Amy has taken on one job after another, from chairing committees to co-chairing the annual Advocate for the Arts Awards Benefit—twice. In that capacity, she's done everything from soliciting donors to wrangling volunteers.
"When we told Amy we needed to schedule our annual meeting the week before Christmas, she assembled a live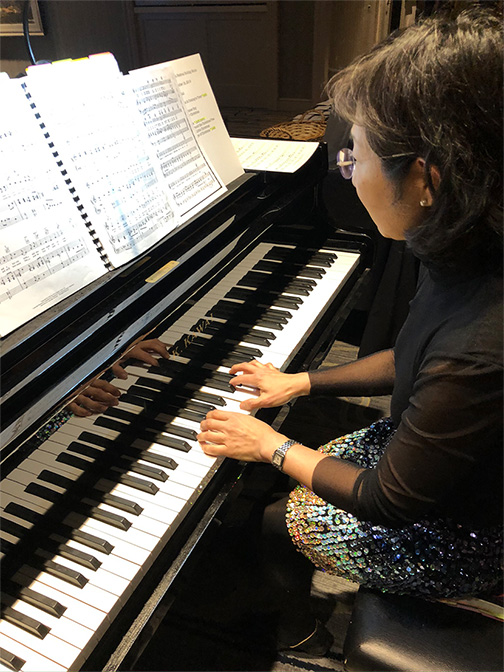 band for caroling—with herself at the piano," said past board chair Steve Smith. "It's become a tradition. And she brings everyone party hats. Nowadays, our annual meeting is one of the best holiday parties in town."
"She's incredibly thoughtful," said Jen Nahn, Associate Development Director. "Sometimes we'll come to the office and find a beautiful spread of treats in the breakroom with a little note thanking us for our work."
"Everyone on the board admires Amy," said Festival CEO Paul Winberg. "She's full of ideas and brings such enthusiasm and dedication to—not only to the Festival—but to music. She makes a point of getting to know other music lovers in town. And the next thing you know, she's recruiting those people to be on our board."
Amy Boonstra grew up in a musical home. "Both of my parents sang in the house," she said. "And then when I was three, my mom would walk me to piano lessons twice a week." As Amy tells it, they didn't have space for a piano at first, so she practiced on a paper keyboard. Eventually, the family did acquire an instrument, and it became little Amy's most prized possession.
She kept up the piano through high school and into college where she made extra money giving piano lessons. In graduate school, she studied sociology and demography in Ann Arbor at the University of Michigan—but already, she had the Festival bug.
"I found musical heaven at the intersection of Columbus Drive and Jackson," she said. That is, she found it at the Petrillo Music Shell, the one-time home of the Grant Park Music Festival. At the time, she was an undergrad at the University of Chicago and working at a law firm in River North. "I wanted to explore downtown, and so I walked south from River North and I could hear an orchestra tuning. And I walked toward the sound and asked somebody, 'how do I get a ticket to this concert?' And I remember her response. She said, 'Oh, it's free. Just come on in.' And I thought: what do you mean it's free?!"
Today, Amy Boonstra is executive director of the Roman Family Center for Decision Research, part of The University of Chicago Booth School of Business. The Center works in behavioral science, and recently opened Mindworks in downtown Chicago, "the world's first lab and discovery center dedicated to behavioral science." Years after Amy attended her first Festival concert, a childhood friend recruited her to the board.
"Music represents humanity, love, friendship, family, life. It's a beautiful way of communicating and experiencing life."

—Amy Boonstra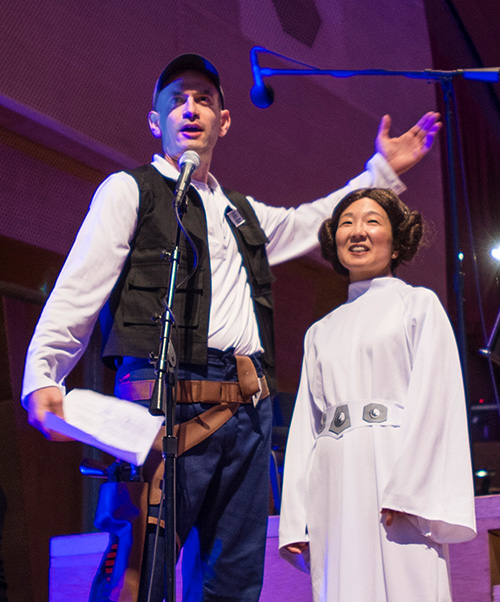 "Adam Grais and I have been friends since we were fifteen or sixteen." she said. "One day, he emailed a bunch of us saying he'd joined the Grant Park Music Festival board, and invited us to a concert. A year later he asked me to join the board."
Since that time, Amy Boonstra has been active with the Festival's youth programming. "I like to attend one of the Classical Campers classes each year, because it gives me a huge thrill," she said. "You see children asking great questions, and you see them delighting in music and learning."
She's also been instrumental on the business side of things, working on the executive committee, the development and membership committee, and the nominating and governance committees. For her, it's about stewardship for something she cherishes.
"Amy is a terrific fundraiser because she's not afraid to ask people to support the Festival's work . . . and she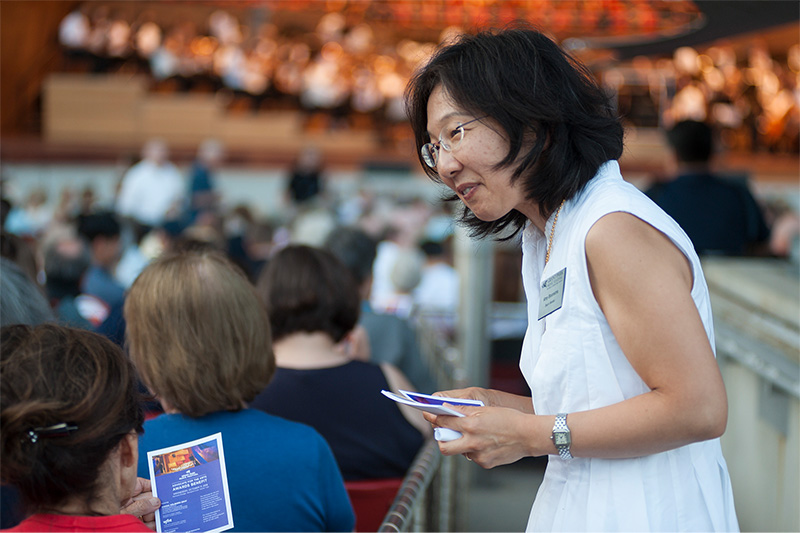 rarely takes no for an answer." said Winberg.
"Music represents humanity, love, friendship, family, life," she said. "It's a beautiful way of communicating and experiencing life. To imbue that love of music in childhood is important because I think it carries through to adulthood." And she brings with her the perspective of someone who's benefited from the Festival.
"I'm humbled to be in the company of these musicians," she said. "They're amazing. When I discovered the Festival back in 1988, I thought the Grant Park Orchestra was very good, and a tremendous opportunity to listen to music. Now, I think the Orchestra is phenomenal. I've seen the evolution of this festival, and I'm thrilled to be part of this chapter and the next."