News & Stories
Homecoming for Soprano Olivia Boen
May 1, 2023 | Noel Morris
The children of orchestral musicians grow up with a unique view of things.
They are affectionately known as "orchestra brats." The children of orchestral musicians typically make it their mission to explore every inch of the concert hall where their parents make their careers. These kids are weaned on a steady diet of music, and a whole ensemble of grownups knows them by name. As the daughter of two Grant Park (and Lyric Opera) Orchestra musicians, soprano Olivia Boen, has wiled away many a summer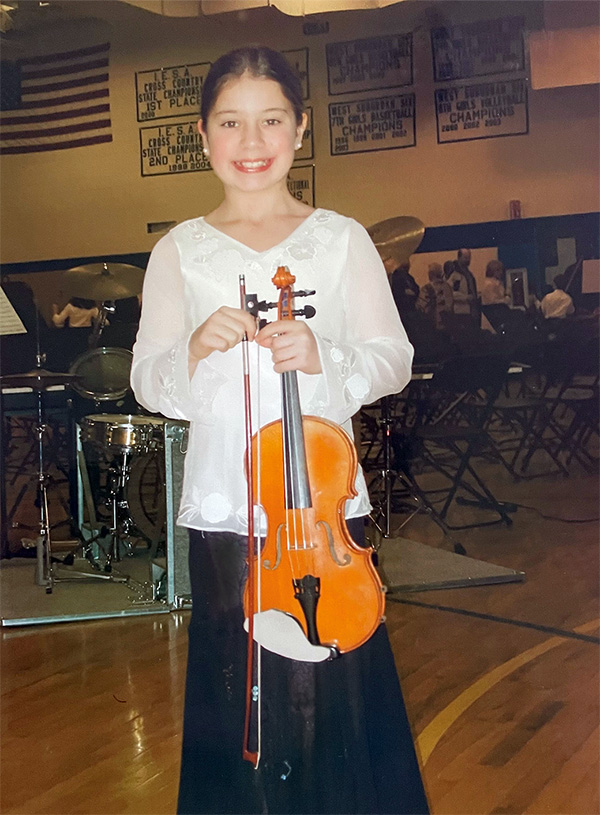 evening in Millennium Park.
Her parents are assistant principal second violin, Laura Miller, and principal horn, Jonathan Boen. She learned violin from Grant Park Orchestra-member Jennifer Cappelli. She learned piano from Cappelli's mom and learned to sing with longtime Chorus-member Elizabeth Gottlieb. By the time she was eighteen, Olivia Boen was accomplished enough to join the renowned Grant Park Chorus. She later headed to London to study at the prestigious Guildhall School. Now based at the Staatsoper Hamburg, Olivia Boen's career comes full circle: she is the soprano soloist in the upcoming performance of Antonín Dvořák's Stabat mater at the Grant Park Music Festival.
Olivia Boen's Top Seven

1. Favorite memory of the Festival's move to Millennium Park
I was 9, and I distinctly remember being there for the first concert. I felt so proud that my family was involved in the unveiling of this accessible-for-all, inner-city cultural hub!
2. Favorite Chicago fix
The first thing I do is take a stroll down the Riverwalk to the lake and back through the city. It isn't until you leave Chicago that you realize how lucky we are to have so many public waterfronts alongside such incredible architecture!
3. Best and worst memories
My best memories from the Festival are all centered around the audience members, because they really are the best in the game.
My worst memory, which admittedly isn't so bad, was from when I was eighteen and sang for the first time with the chorus. I was absolutely mortified when my parents came out on opening night and stood in front of their respective seats until they could spot me in the chorus loft, enthusiastically waving in front of all our colleagues and the entire audience. For a teenager trying to blend in with the "grown-ups," that was completely humiliating! This time around, I really hope that we get to have a "humiliating" moment together as a family on stage.

4. Favorite pizza
I was always a Giordano's girl growing up, but since I developed a gluten allergy, it's become a quest to find excellent pizza. I know Lou Malnati's does a gluten-free deep dish, so that works in a pinch!
5. Favorite Chicago artist
Chicago-born jazz singer Kurt Elling is one of my all-time favorite musicians! He's able to use his voice in whatever way he pleases to express whatever comes to him, which is a total inspiration. WFMT was always on in my parents' cars, so I'm really looking forward to the radio broadcast of the Dvorak on the 16th and my Dame Myra Hess recital broadcast with Shannon McGinnis on the 21st.
6. Singing with mezzo-soprano Siena Licht Miller
I am so fortunate to count Siena as one of my closest friends. We met during our Oberlin days and have been joined at the hip ever since! We've already sung together in Italy and St. Louis, but to share the stage with her in my hometown with my home orchestra makes the whole experience even more special.
7. Dvořák's Stabat mater
Though it's not performed frequently today, this piece helped to put Dvorak on the international map, and for good reason. He weaves together the vocal and instrumental textures so cohesively that no one thread is more important than any other, even in the solo movements. This writing is honest, uninhibited, and pure. I think it will be a really unifying experience, and I can't wait to share the stage with so many phenomenal musicians in order to bring this wonderful score to life.
Olivia Boen will sing Dvořák's Stabat mater with Carlos Kalmar and the Grant Park Orchestra and Chorus on Friday and Saturday, June 16 and 17. She will also perform a solo recital at the Seventeenth Church of Christ, Scientist, Chicago, part of Classical Music Chicago's weekly Dame Myra Hess Memorial Concerts on June 21. Both the recital and her performance at the Grant Park Music Festival will be broadcast live on 98.7 WFMT.