News & Stories
Winter in the City
November 3, 2021 | Noel Morris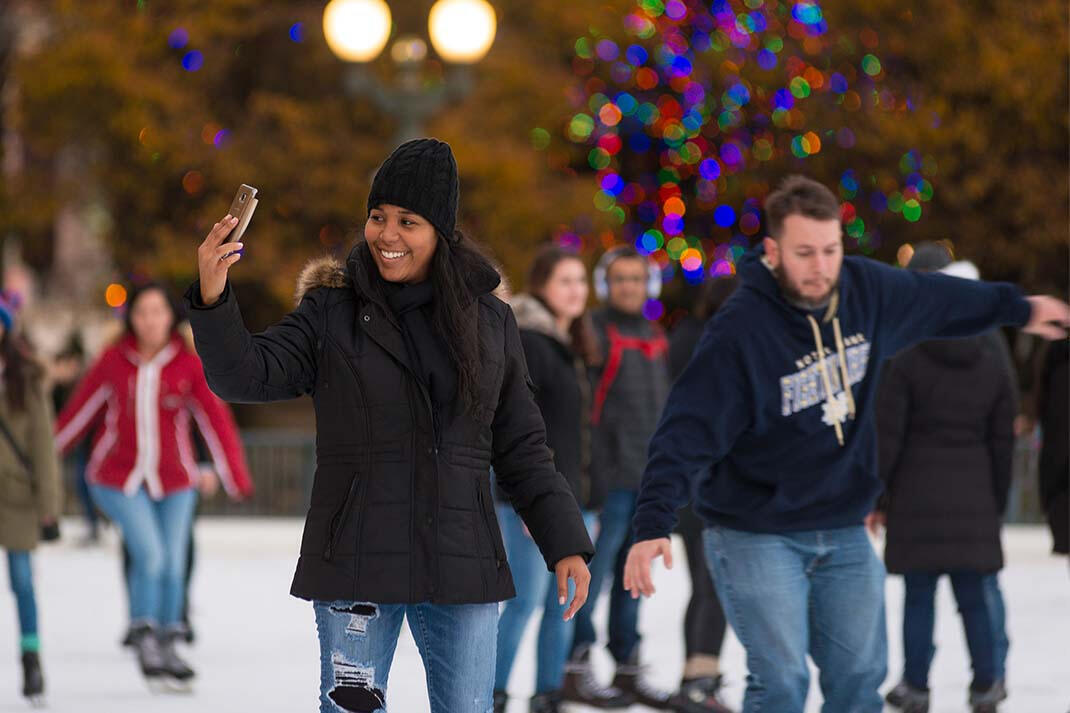 From the Christmas tree lighting to a brisk skate around the Park, Winter brings new wonders to downtown
The 108th Annual City of Chicago Christmas Tree in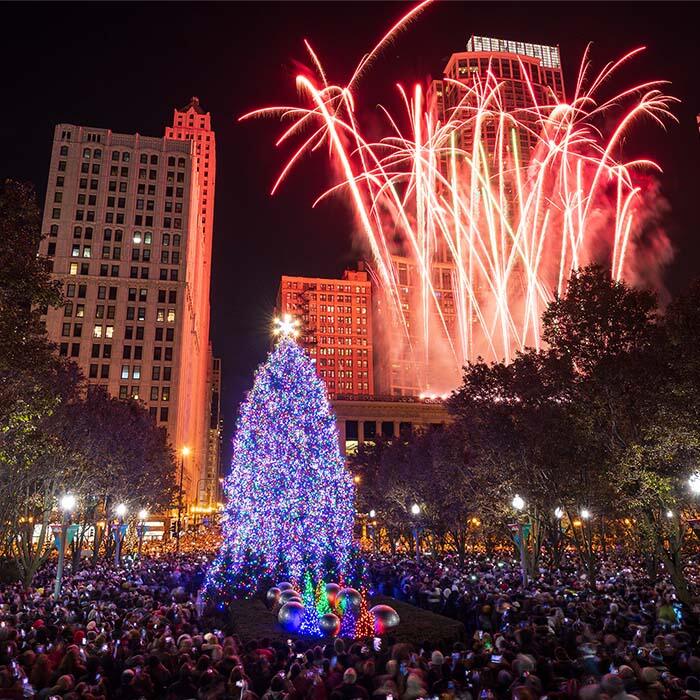 Millennium Park will cast its warm holiday glow over Michigan Ave. at Washington St. from November 19 through January 9. The Christmas Tree Lighting Ceremony will take place on Friday, November 19 starting at 6pm (with the actual lighting at approximately 6:30pm). Multiple viewing locations make for easier access with screens and concessions across the Park and a main stage on the Great Lawn with the traditional Tree Lighting Ceremony followed by fireworks. The schedule is as follows:
5:30–6pm: Preshow with DJ Selah Say
6pm: Tree Lighting Ceremony featuring Mariachi Herencia de Mexico, the cast of Chicago Opera Theater performing an excerpt from "Becoming Santa Claus;" a youth dance ensemble from the Kenwood School of Ballet; and special guests Dreezy Claus and Sister Claus
6:30pm: Fireworks
6:35–7:45pm: Concert featuring DJ Selah Say; Cirque du Soleil performing an excerpt of 'Twas the Night Before…;" Chicago Soul Spectacular performing a high-energy Soul Christmas medley; and singer-songwriter Brian McKnight
Skating at the McCormick Tribune Ice Rink in Millennium Park will be open daily from November 19 through March 6 (weather permitting). Admission is free, but online reservation tickets are required. Snacks and hot drinks will be available from Momentum Coffee. The Department of Cultural Affairs and Special Events offers free skating lessons (reservations required) from 8–9am on most Saturdays and Sundays.
The new Millennium Park Holiday Sing-Along invites Chicagoans and visitors to sing out and celebrate diverse holiday traditions on Fridays at 6pm, November 26 – December 17 (except Sunday, December 12, which will begin at 4pm). Millennium Park winter programming also includes pop-up performances through the Park in November and December.
The Millennium Park Art Market returns to kick off the holiday shopping season. Located in the Chase Promenade North tent, 30 local artists will be on hand, selling a variety of items including jewelry, pottery, drawing, painting and more. In addition to professional artists curated through BUDDY, the shop at the Chicago Cultural Center, the Art Market will feature student artists from organizations including Marwen and After School Matters — plus a café, pop-up programming and a special visit by Dreezy Claus on Saturday and Sunday from 1–3pm.
Art Market Schedule (subject to change):
Friday, November 19 at 3–8pm
Saturday, November 20 at 12–8pm
Sunday, November 21 at 12–5pm
Both art exhibitions in the Boeing Galleries at Millennium Park will continue through spring 2023: "Screenhouse" by Edra Soto and "When we call the Earth by way of distinction a planet and the Moon a satellite, we should consider whether we do not, in a certain sense, mistake the matter. Perhaps — and not unlikely — the Moon is the planet and the Earth the satellite! Are we not a larger moon to the Moon, than she is to us?" by Christine Tarkowski. The Park is open daily, 8am–9pm.