Project Inclusion Fellows
The Grant Park Music Festival seeks four exceptionally talented string players for its Project Inclusion program in June 2022.
Project Inclusion String Fellows perform with the Grant Park Orchestra and Chorus in Chicago's Millennium Park for upwards of 10,000 people. Participants take part in master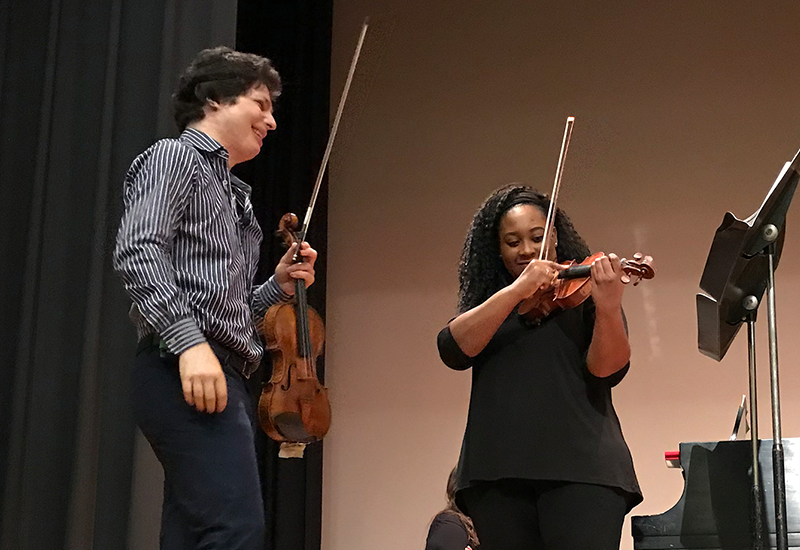 classes with world-renowned artists, including violinist Rachel Barton Pine, and will have the opportunity to work one-on-one with Grammy-winning composer Billy Childs on a world premiere work for string quartet. During their residency, fellows perform chamber music in high profile recitals and park programs across the Chicago community, take part in professional development sessions and mock auditions and work with different conductors, including Carlos Kalmar and Christopher Bell.
Fellowship stipend of $8500
Rehearse and perform with the Grant Park Orchestra & Chorus in beautiful Millennium Park in downtown Chicago
Work with artistic director Carlos Kalmar, chorus director Christopher Bell, world-renowned guest artists and musicians from top tier orchestras across the country
Perform fun and interactive chamber programs featuring BIPOC composers in communities all across Chicago
Improve networking skills and learn insider tips through professional development sessions with industry professionals on a wide range of topics, including audition best practices, resume and branding development, managing finances, and body wellness
Work on public speaking and learn to present music to all ages as a teaching artist for the Festival's community engagement programs
Perform a joint recital with the Vocal Fellows on the Dame Myra Hess Memorial Concert Series, which features young artists at the beginning of their career.
QUALIFICATIONS
Four fellowships available: violin (2), viola, cello
Applicants must be 18-29 years of age at the time of application.
Open to artists from communities that have been historically underrepresented in the field of orchestral music (Black, Native American, Western Asian, or Latinx artists, for example)
Fellows must commit to the entire duration of the program (June 6 - July 30, 2022).
Project Inclusion Fellows will also return to perform at our GPMF Advocate for the Arts Awards on October 27, 2022 (flight/hotel covered).
Candidate must be legally eligible to work in the United States and provide current visa.
Candidate must be vaccinated against the COVID-19 virus.
Must have a sincere interest in pursuing music as a career
APPLICATIONS ARE NOW OPEN
Please take a moment to carefully review the audition repertoire requirements below and the application instructions before beginning your application. Note: Candidates may audition with piano accompaniment, but it is not a requirement.
VIDEO AUDITION REPERTOIRE REQUIREMENTS
Submit videos with the following:
1. SOLO - First movement of a major concerto (exposition only)

2. EXCERPTS - Candidates should fully prepare and submit a video of the following excerpts:

VIOLIN
Mozart: Symphony No. 39, mvt 2, mm. 1-27 (no repeat)
Mendelssohn: A Midsummer Night's Dream, Scherzo, mm. 17-99
Strauss: Don Juan, first page

VIOLA
Beethoven: Symphony No. 5, 2nd mvt, mm. 1-10, 23-27, 49-60, 98-106
Mendelssohn: A Midsummer Night's Dream, Scherzo, beginning to letter D
Strauss: Don Juan, beginning to letter B

CELLO
Brahms: Symphony No. 2, 2nd movement, mm. 1-15
Strauss: Don Juan, mm. 1 - 9, Letter C - D, 7 measures before letter G to H
Mendelssohn: A Midsummer Night's Dream, Scherzo, letter C to D, letter N to O

APPLICATION AND AUDITION INSTRUCTIONS
Application and audition materials for all instruments are due no later than 11:59PM CST on Friday, February 18, 2022. In an effort to keep the Project Inclusion fellowship free and accessible to all, Grant Park Music Festival has subsidized the application fee for all applicants this year.

We look forward to receiving your audition materials. Applicants who are selected as finalists will be notified within one week after the video audition deadline and will be required to audition live at Grant Park Music Festival in Chicago in mid-March 2022. Candidates traveling more than 50 miles qualify to receive a travel reimbursement of up to a maximum of $250 USD, depending on the distance traveled and order of application submission.
Audition
Join us for the 2022 Season! Audition applications are now being accepted for the Project Inclusion String Fellowship (June 6-July 30, 2022).
Apply Now
Something I think back to often is the welcoming nature of the musicians and staff at GPMF. That kind of loving atmosphere is, in my opinion, the best way to make incredible music. So anytime I play with an orchestra or ensemble, I look for this energy and care within the organization.
—Sarah Martin, 2013 String Fellow